So far I've managed to find approximately 1200 examples of handwriting that are ROUGHLY similar to the script on 116v and 17r. However, I only consider about 40 to be reasonable matches, and only a few to be good matches (i.e., scribes who learned the same style, along with some regional idiosyncrasies).
Here are a few examples (from four different countries). It would take too much room to show the top 20 (or even the top 10), so I am posting just a sampler for now. I will have to use some other format (probably PDF) to post all of them along with identifying information and explanations.
These are not in a specific order because some letters match better than others: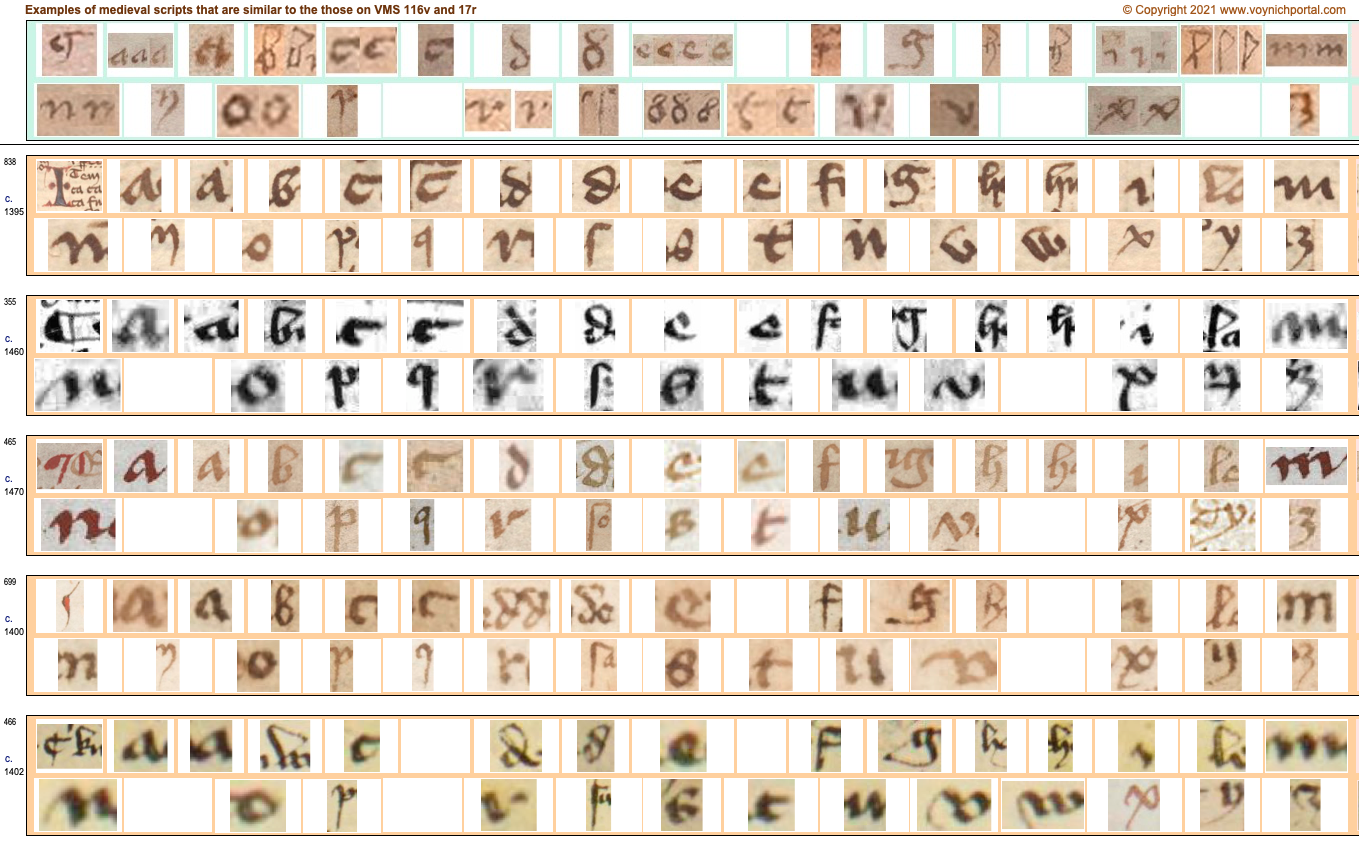 Note that many scribes wrote two forms of "d" (the d with a closed loop and one with an open loop).
Some scribes used both a long-cee and a regular-cee, some used only regular-cee.
Many scribes wrote final letters both with and without an extra tail at the end (a descender). Many scribes do this for "n", "m", and "h".
Caveat: We do not know for certain whether the VMS "d" shape on 116v is a "d" or an "s" or a Voynich character, but it's reasonable to think it is maybe "d", "s" or both (depending on position, as in final position it might be "s", for example).
We don't know for sure if 116v was penned by the same person as 17r, but I am reasonably confident that it is the same scribe. I should point out that the character at the end of

lucz

is probably not a "z", it is probably the abbreviation symbol that resembles a rotated "m" (we don't have a forum font that writes this character), but many scribes wrote it the same as "z" so I put it in the "close enough" category, for now.
I have closer matches for individual letters, but I didn't post them because if 60% of the alphabet does not match well, it's usually a coincidence if a specific letter is the same. I was looking for good individual scores (for single letters) TOGETHER with a good overall score.