As some of you may know i am always actively working on the VMS. A couple of months back i found out the direction i want to go and now i am slowly moving.  But first i need more and specific information and i browsed for any old theories or people that wrote something fundamental about the VMS and one of the suspected languages (Middle English and variants).
I found only one:  on the site of Nick Pelling, on top You are not allowed to view links.
Register
or
Login
to view. there is a T.A. Ackerson theory. He believed in 2003 that the text was 
Quote: * Based on a language context, I believe the Voynich manuscript dates from the 7th to 8th century AD.    
 * Languages found in the manuscript thus far:  Early Welsh (majority of words found)  Traces of: Irish/Latin loanwords ; Latin ; Old Cornish ;   (Old High German has been dropped, as matching Welsh/Cornish words have been found.)
He did not have Google translate otherwise he probably would have made some progress.
Nevertheless, with the help of Nick and the wayback machine based on his data i made the transposition table below (he called it "Symbol key" image).
Quote:The Wayback Machine has a copy of (most of) Tim Ackerson's theory here:
https://web.archive.org/web/20040611100227/http://hometown.aol.com/arqy0plex/

full text see also below
This resulted in the text on page f65v:
oll air yd da ryd agaryd
crh a pw cpha da dwr am bella qora pog urda 
dam beech(=>buch) g oda alleo qor* airy wolleea dagaryd 
all ag woll bcha a eat woda
lloeeda ollory beda alleea beoda qochetd apwa 
dbeda ocheoda qochd bcchha uocha uocheoda ochea da 
qo allwa bcchhh crha achuhda wda bcchhda
google translate:
All good ford agaryd word corn
SO and good water for power CPhA bella qora POG urda
dam beech (=> buch) g ODA alleo QOR * AIRY wolleea dagaryd
Can a woll bcha and eat woda
lloeeda ollory Bede alleea beoda qochetd apwa
dbeda ocheoda qochd bcchha uocha uocheoda ochea good
qo allwa bcchhh PTA achuhda WDA bcchhda
-----
Note: when che =w and ch=u is not quite clear to me.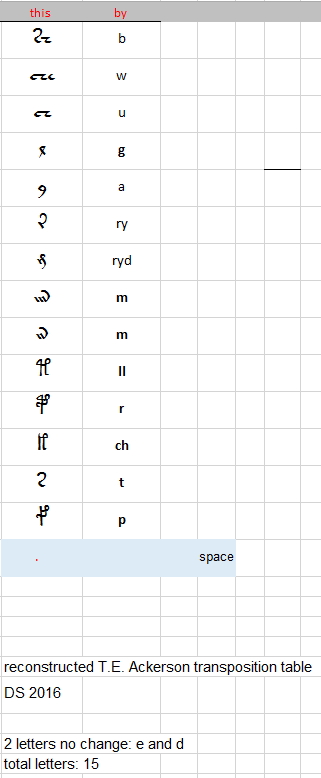 Full text Ackerson theory:
-----------------------------------
Unleashed: Oct. 3rd, 2003
Last Updated: Jan. 5th, 2004
Voynich Manuscript
  The background for the Voynich manuscript is extensively covered elsewhere on the internet and will not be repeated here. This site
has been constructed to show a 
verifiable 
solution. An example is given of a partially translated page, with relevant sources of
information.
*
 Based on a language context, I believe the Voynich manuscript dates from the 7th to 8th century AD.    
* 
Languages found in the manuscript thus far:
Early Welsh
 (majority of words found)
 Traces of: 
Irish/Latin
 loanwords ;
 Latin ; Old Cornish ;   (Old High German
 has been dropped, as matching Welsh/Cornish words have been found.)
*
 The bulk of the manuscript is in an as-yet unidentified, though related, language of those listed above.  It is also possible that many words no longer 'exist' (or are not 
in the sources available to me), having gone out of usage centuries ago.
By using the Symbol Key, and the sources listed, these findings can be verified. For those who choose to do so, I invite you to try your 
hand at translating some of the other pages. (There are over 200, so there are plenty to go around.)
  The Voynich manuscript is full of surprises, waiting to be found.  I have only unlocked the doors for you.....
                        T.E. Ackerson     
The Symbol Key above covers the majority of symbols found in the manuscript.
Possible values for Compound/Unknown symbols could be:  
gh ; ng
/
ngh ; rh ; ff ;
(Note that many more Compunds exist than are listed here.)
For 
Latin
, the letter 
v
 appears to be absent. (However, see note way below.)
'Missing' letters: 
F ; H ; S
          Unconfirmed (until further translations made): 
T
The symbol for 
'B'
 is now confirmed. 
Initially (at the beginning of a word) 
B
 can also mutate into 
P
 or 
M
 in pronunciation.
'H'
 is initially silent in pronunciation. 
Example:
 hollalluog = (h)ollalluog "almighty"     (This section will be expanded further in a later update.)
Partially Translated Page
Image can be found at: You are not allowed to view links. Register or Login to view.
[/ = word separator    || = break in line due to illustration  (?) = unknown letter(s)]
(?)a / pw(?)(?) / 
da
 || 
dwram
 / 
(B)e
ll
a
 / 
yora
 / 
pog
 / 
urda
dam
 / 
(B)u
ch
 / 
g
 / 
oda
 || 
a
ll
eo
 / 
yor(?)
 / ai
ry
 / wo
ll
ua / daga
ryd
a
ll
ag / wo
ll
 / (B)
ch
a / 
a
 || 
(T)a(T)
 / 
woda
l
louda / 
o
ll
o
ry
 / 
(B)eda 
|| a
ll
ua / (B)eoda / 
yo
ch
.
ryd
 /apwa
d(B)eda / o
ch
eoda / yo
ch
d || (B)(?)a / 
uo
ch
a
 / uo
ch
eoda / o
ch
ea / 
da
(?y)o / a
ll
wa / (B)(?)(?)a || 
a
ch
wda
 / wda / (B)(?)da
'Found' words
Line 1
da
 = "good, well" [S2 p252] 
or
 "to/unto" [WC p84] || 
dwr
 = "water" +
 am
 ("of, about") [S1 p197] / 
Bella = pella
 = "farther, longer" [WC
p282] / 
yora
 = 
yor
 "lord" [AB p233] + suffix 
a
 / 
pog
 = Ir. 
'pog'
 > L. 
pacem
 = "to grant peace" [LH p126] / 
urda 
= "rank, order, dignity" 
[S2 p274]
Line 2
dam
 = "suite, guests, retinue" [OC #160] / 
Buch
 = "a cow" [WC p36] / 
g
 = ? (reference found but lost in notes.) / 
oda =
 W.
awdl 
=
"poem" [LH p307] || 
alleo
 = "alteration" (figure of speech) [RM p15] / 
yor(?)
 = "lord" + indistinct symbol
Line 3
a
 = "and" [S2 p243] || 
(T)a(T)
 = "father" [OC #127, WC p331] / 
woda
 = a form of 
wodhas
 "to know" [WC p173]
Line 4
ollory
 = unconfirmed: either 
o
 + 
llory
 "weapon" or 
llori
 = "to break" (or neither?) [S1 p312] / 
Beda
 = a form of 
bedha  pedha 
= "he should
be" [WC p281] || /  
yochryd 
 = 
yoch
 [RM pp24] + 
ryd
 [S2 p271] = "free of the yoke"
Line 5
uocha
 = 
uoch
 "face"  [OC #37] + suffix 
a
 / 
da
 = (as above)
Line 6
achwda
 = possibly 
achwedda
 "lineage" [S1 p3], but in any event 
ach
- = "relationship, ancestry" [OC #136] See also 
ach-
 in GPC
Sources
RM = 
Revised Medieval Latin Word List from Br. & Irish sources
 (R.E.Latham)
LH = 
Language and History in Early Britain
 (Jackson)
OC = 
The Old Cornish Vocabulary
 (Graves)  #'s refer to the entry
S1 = 
Y Geiriadur Mawr
 (The Complete Welsh-English E-W Dictionary)
          1989 edition  ISBN 0-85088-462-4
S2 = 
An Introduction to Early Welsh
, by John Strachan, LL.D.
         Manchester University Press, 1937 reprint of 1907 edition
GPC = 
Geiriadur Prifysgol Cymru
 1950-1967 ed.
WC = 
Williams' Cornish-English Dictionary
, 1865 edition
AB = 
Ancient Britons
 (Vaughan), vols. V, VI  1988 edition
Other Research Sources
Glossary to 'Culhwch Ac Olwen'
"History of Wales"
, 2 volumes
 compiled by R.Bromwich & D.Simon Evans                  J.E.Lloyd
 Welsh Studies, Volume 7                                              Longman's, Green and Co. Ltd (1948)
 Edwin Mellon Press ISBN 0-7734-9455-3
"The Book of the Llan Dav"
"Handwriting in England and Wales"
                            Volume 4 of Series of Old Welsh Texts
 Noel Denholm-Young                                                  J.E.Evans & J. Rhys
 Cardiff; University of Wales Press (1954)                       National Library of Wales, 1979 reprint
                                                                                      ISBN 0-9018-3387-8
"A New English-Welsh Dictionary"
 William Evans, 1771 edition
From 
"The Book of the Llan Dav"
, Index, page 385
  "The spelling of the text has been followed with the
exception that medial
 f 
and
 u 
have been changed into 
v
when their sound corresponds with the sound of 
v.  
Old
Welsh 
b 
and 
m 
often = 
v,
 hence it happens that
medially 
b = f = m = u = v, as for example
 E
b
rdil, E
f
rdil, 
E
m
rdil 
or 
E
u
rdil
 = 
E
v
rdil.
 (and etc.)"
Many Thanks To:
 Dr. Andrew Breeze, University of Navarre, for pointing me to
research sources I never knew existed, and his quote 
"You are
in the 'salutary business of challenging received thinking'."
(Yes, I do agree that I have a talent for upsetting people!)
  The Reference staff of the Oviedo East Branch library for their 
patience in dealing with my unending stream of ILL requests.
---
added:
For those who want to have more text let me know.  I drop here the last page 116v as well: <linenr><orgtext EVA><transposed>
   f116r.P.1
kchdpy.shey.qokain.otalshedy.q*teey.shear.ain.or.llory.shear.amom.
chudra bea qocham ollagbeda q*lleea beary am ory ggorya beary arydoryd 
f116r.P.2
oain.cheer.ain.okeey.okeey.shy.lar.ar.aiiin.oky.char.ar.okain.ykanam.
oam wery am ocheea ocheea ba gary ary aim ocha uary ary ocham achanaryd 
f116r.P.3
dain.chl.lshey.cthy.lshedy.oteor.shey.qo.saly
dam ug gbea cllha gbeda olleory bea qo taga
f116r.P.4
padar.shey.osheeky.qol.loiin.chckhy.okam.chedy.oteedy.qotar.aralary.
radary bea obeecha qog gom ucchha ocharyd wda olleeda qollary aryagarya 
f116r.P.5
dain.sheed.qokchdy.otal.chedy.lkain.oteedy.otor.aiin.oty.lol.rol.oly.
dam beed qochuda ollag wda gcham olleeda ollory am olla gog ryog oga 
f116r.P.6
sain.ol.lchedy.chedy.otey.chedy.ykoloin.otedy.oteey
tam og gwda wda ollea wda achogom olleda olleea
f116r.P.7
pchol.chdy.teody.otey.qo.qokain.qoteey.tokain.otedy.totol.rotydy.
ruog uda lleoda ollea qo qocham qolleea llocham olleda llollog ryollada 
f116r.P.8
dar.yteedy.chedy.qokeey.qokain.qotody.oteedar.otedy.ldy.lchedy.
dary alleeda wda qocheea qocham qolloda olleedary olleda gda gwda 
f116r.P.9
qokeey.lchey.qokeedy.qokain.okeey.lkain
qocheea gwa qocheeda qocham ocheea gcham
f116r.P.10
chdain.checkhy.dar.shedy.qokeedy.shdy.rain.sheedy.cphol.rteol.chcpham.
udam wcchha dary beda qocheeda bda ryam beeda crhog rylleog ucrharyd 
f116r.P.11
ol.aiin.shed.qoteedy.okeolshey.qotain.okedy.chedy.olchedy.olkain.als.
og am bed qolleeda ocheogbea qollam ocheda wda ogwda ogcham agt 
f116r.P.12
qoain.ar.chol.ches.okain.dain.cheey.okeey.otain.oleedy.otal.dain.olam.
qoam ary uog wt ocham dam wea ocheea ollam ogeeda ollag dam ogaryd 
f116r.P.13
sar.ain.tey.chetain.shtshy.okey.chedy.qoteedy.qokain.shety.okeedam.
tary am llea wllam bllba ochea wda qolleeda qocham bella ocheedaryd 
f116r.P.14
sain.chey.chear.ain.chll.s.oleedy
tam wa wary am ugg t ogeeda
f116r.P.15
pchoetal.otedal.otal.oteedy.olr.daiin.okeedy.qoky.dar.al.keedy.shdy.
ruoellag olledag ollag olleeda ogry dam ocheeda qocha dary ag cheeda bda 
f116r.P.16
dar.chedy.sheedy.otal.al.lchedy.shcthy.qotey.dain.otar.otarar.opam.
dary wda beeda ollag ag gwda bcllha qollea dam ollary ollaryary oraryd 
f116r.P.17
dain.chey.qokeey.okeey.lain.okeey.qol.chedy
dam wa qocheea ocheea gam ocheea qog wda
f116r.P.18
pcharalor.qokey.rain.otedy.opain.lor.oiin.otain.otar.oteeedy.ches.ary.
ruaryagory qochea ryam olleda oram gory om ollam ollary olleeeda wt arya 
f116r.P.19
porchey.sheedy.qotain.chetar.qotar.ar.arody.chcthy.rain.otey.oty.dain.
rorywa beeda qollam wllary qollary ary aryoda ucllha ryam ollea olla dam 
f116r.P.20
chol.keedy.ol.cheey.laiin.y.chedy.otar.okal.okain.olar.otedy.qoty.rfam.
uog cheeda og wea gam a wda ollary ochag ocham ogary olleda qolla ryparyd 
f116r.P.21
sairol.sheey.qokain.chal.qol.chl.lrain.okain.shckhy.dtal.orchcthdy.lty.
tairyog beea qocham uag qog ug gryam ocham bcchha dllag oryucllhda glla 
f116r.P.22
dol.shedy.shekchy.qokain.chedy.otar.okalain.shcthy.oteey.dar.chedy.lg.
dog beda bechua qocham wda ollary ochagam bcllha olleea dary wda gg 
f116r.P.23
dain.cheeteey.lkar.shedy.qokal.shedy.qoteedy.ches.ain.aiin.aly.salo.lm.
dam welleea gchary beda qochag beda qolleeda wt am am aga tago gryd 
f116r.P.24
qokedy.okain.chcthy.oty.shedy.qokeey.chalkeey.okey.kedy.chey.lam.
qocheda ocham ucllha olla beda qocheea uagcheea ochea cheda wa garyd 
f116r.P.25
chol.sheky.shedy.qokeey.qokeedy.shckhy.qokain.otal.ches.ain.ain.alom.
uog becha beda qocheea qocheeda bcchha qocham ollag wt am am agoryd 
f116r.P.26
ytchey.qokaiin.chckhol.shechol.qotey.ol.cheedy.otain.okeedy.qotam.
allwa qocham ucchhog beuog qollea og weda ollam ocheeda qollaryd 
f116r.P.27
daiin.chey.qokey.lshedy.orain.chckhy.lkain.chy.pshedy.lshedy.qoky.rom.
dam wa qochea gbeda oryam ucchha gcham ua rbeda gbeda qocha ryoryd 
f116r.P.28
cheol.lchey.lkeey.sheal.lshalshy.qotalshy.cthedy.lky.chedy.oteedy.lched.
wog gwa gcheea beag gbagba qollagba cllheda gcha wda olleeda gwd 
f116r.P.29
cthan.cheey.lkeeal.lshey.chll.lkain.chear.aiin.chl.l.keedy.raraiin.ory.
cllhan wea gcheeag gbea ugg gcham wary am ug g cheeda ryaryam orya 
f116r.P.30
saraiin.shey.qokain.chcthy.okar.air.ollain.okaly
taryam bea qocham ucllha ochary airy oggam ochaga
f116r.Q.31
pchallarar.al.ckhal.rain.alolfchy.rpchey.shfy.ches.ar.opchekan.dlr.
ruaggaryary ag cchhag ryam agogpua ryrwa bpa wt ary orwchan dgry 
f116r.Q.32
olkeey.rain.shey.qor.oiin.shey.ol.lchedy.rshey.qokeedy.chtain.oly.
ogcheea ryam bea qory om bea og gwda rybea qocheeda ullam oga 
f116r.Q.33
soraiin.ykeey.orain.sheeky.qokain.sheey.qol.cheds.ar.r.arsheg.
toryam acheea oryam beecha qocham beea qog wdt ary ry arybeg 
f116r.Q.34
qokain.ar.raiin.shek.okain.yrshey.qolchey.okain.shckhy.qokam.
qocham ary ryam bech ocham arybea qogwa ocham bcchha qocharyd 
f116r.Q.35
shedy.qokeey.qokain.qokeey.lchey.olkey.raiin.cthar.shckhy.qoear.
beda qocheea qocham qocheea gwa ogchea ryam cllhary bcchha qoeary 
f116r.Q.36
qokeey.rain.shey.okeey.lkain.l.dain.chey.sheckhy.qcthhy.qoklain.
qocheea ryam bea ocheea gcham g dam wa becchha qcllhha qochgam 
f116r.Q.37
pairain.sheekly.oiin.cheey.lkeey.olkeey.lchey.qoky.lshedy.cheam.sham.
rairyam beechga om wea gcheea ogcheea gwa qocha gbeda waryd baryd 
f116r.Q.38
daiin.qokeey.lshey.qokain.chkar.shey.okain.chedy.qokeedy.raiin.shy.
dam qocheea gbea qocham uchary bea ocham wda qocheeda ryam ba 
f116r.Q.39
qokain.chey.olr.ain.shey.qokain.olkeey.keeey.lkeal.or.al.lom.
qocham wa ogry am bea qocham ogcheea cheeea gcheag ory ag goryd 
f116r.Q.40
dsheey.shey.qokey.shey.qokain.shckhy.chery.ol.chedy.lcheylchy.
dbeea bea qochea bea qocham bcchha wrya og wda gwagua 
f116r.Q.41
dlar.shar.shar.rain.sheain.okain.shey.qokchy.chckhy.orain.
dgary bary bary ryam beam ocham bea qochua ucchha oryam 
f116r.Q.42
qo.qokain.sheckhy.qokain.shekain.shkain.shedy.shey.qokan.cham.
qo qocham becchha qocham becham bcham beda bea qochan uaryd 
f116r.Q.43
os.*.ar.al.shear.teey.chcphy.rain.cphan.odar.aty.shey.qokam.
ot * ary ag beary lleea ucrha ryam crhan odary alla bea qocharyd 
f116r.Q.43a
syokeedy.qokain.shckhy.ol.lcheor.chky.raiin.chey.qol.okam.
taocheeda qocham bcchha og gwory ucha ryam wa qog ocharyd 
f116r.Q.44
odaiin.shey.qokas.aleey.chy
odam bea qochat ageea ua
f116r.Q.45
oqokain.al.shey.qokar.okaral.okey.shcphhy.oteey.o.okar.okydy.
oqocham ag bea qochary ocharyag ochea bcrhha olleea o ochary ochada 
f116r.Q.46
osain.shky.qorain.chckhey.qokey.lkechy.okeey.okal.chedkaly.
otam bcha qoryam ucchhea qochea gcheua ocheea ochag wdchaga 
f116r.Q.47
sykar.ain.olkeey.dain.choy.qokar.chey.dain.y.otan.otain.oly.
tachary am ogcheea dam uoa qochary wa dam a ollan ollam oga 
f116r.Q.48
sosar.shey.qokey.okeolan.chey.qol.or.cheey.qor.aram.ol.lkan.
totary bea qochea ocheogan wa qog ory wea qory aryaryd og gchan 
f116r.Q.49
sodal.chal.chcthy.chckhy.qol.ain.ary
todag uag ucllha ucchha qog am arya