Yep, quite a few. No time to look them up and post them right now, but I wanted to point out the "th" in your example. Notice how it sort of resembles a "y" but it's not?
I have often wondered if the dangling character in "y ven mus mel" is the thorn character. I've mentioned this before but there wasn't any response, so I don't know if people think it's a good idea or a bad idea.
Thorn originally looked more like a Y-shape and then a P-shape, one stem a bit more rounded but, as time wore on, it became more like a "y" shape again (and there are some that are in-between like the one in the VMS). Some of the early printed books use "y" instead of a real thorn char.
It was commonly used as an abbreviation for "the" and the superscripted "e" was not always included, so if it's thorn in the VMS, it might represent "the" or it might be a reference letter.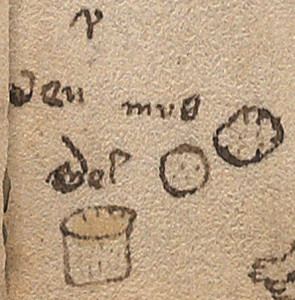 One of the other reasons I thought it might be thorn is because one of the possible interpretations of "ven" is a swelling or tumor and this is a northern word. If the marginalia is both thorn and ven-as-swelling then the writer probably grew up or learned to write on the northern continent (e.g., Saxony) or in England.
For a long time I thought "y ven mus mel" might be the same handwriting as 116v and 17r (especially since it almost reads as German) BUT after studying them for years and years and becoming very familiar with the letterforms, I now have some doubt. I still think 116v and 17r are the same scribe, but "mus" is written with a differently shaped "m" and a different final-ess which means it might be a different hand.
I just looked to see if I could find a good manuscript example of thorn and found something better, an example of some of the transitional shapes (there are actually more variations than are shown in this pic, but it gives the idea):