I think it's worth exploring.
Look at folio 84r...
Notice how there are seven labeled arches. Arches were a very common motif in medieval calendars.
Now look at the text directly below...
There just happen to be two paragraphs, each with exactly seven lines. And maybe... just maybe, relate to days of the week.
Maybe a coincidence but, for the sake of discussion, imagine the arches are column headers, and the seven lines fit into the seven columns.
Now, there are some considerations. It is difficult to evaluate VMS spaces. I don't trust some of them. I think there's a high possibility that the VMS in general plays with some of the spaces in instances where the "reader" would know whether to believe them or not. There's an EVA-y in there, for example, that stands alone. But is that what is intended? Or does it belong to the vord that comes before or after (or does it represent some kind of operation rather than a letter or symbol?).
And, a very important second consideration. Is there some specific way to integrate the first set of seven lines with the second? Does one come after the other, or are they integrated? Do the vords line up next to each other, or follow one from each word? Does one build columns left to right? Top to bottom? Right to left? So many possibilities.
As just one example, I started to do this by hand, but I've been up all night, haven't had any sleep, and am too tired to write some algorithms to organize these in a variety of ways. Doing it by hand is not practical... trying it in different ways is a job for the computer. I will post an example of the first paragraph moved into columns, however, with the BIG caveat, that the spaces are big guesses, the top to bottom format is a big guess (really just one permutation) and the second paragraph could be needed for it to make any sense IF a system like this were used.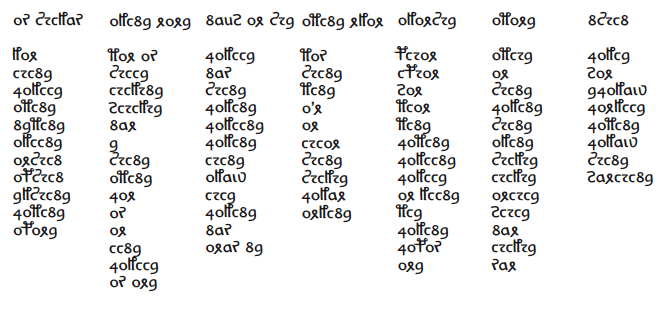 Notice that the "labels" at the top of the arches have spaces so what follows in columns perhaps would have spaces also, but I have mostly split them because, at this point, there's no way to know.
But... it's something to think about. Is 7 x 7 x 7 a coincidence, or a clue to structure? Or... are there other pages that would be more amenable to this line of experimentation?
For the record, in the past, I've tried many ways to manipulate the text on the plant pages and didn't find any evidence that they are intended to be understood this way (integrated paragraphs, columns, right to left, up to down, etc.) but... I have different feelings about text in other parts of the manuscript. I think it's possible.