I'm working on a short blog post about nymph attributes, and I realized I had never looked properly at these guys before. Image contrast etc. has been altered:
Now there are some weird things about them. For starters, I think the faces are drawn in a different style than those in the other nymphy sections. They are all clothed. They all have two items, which is highly exceptional. How I interpret the items, very tentatively:
Top left (my image): container, product (bread? vegetable?) or gold?
Top right: container, cereal crop
Bottom left: holding yellow globe in one hand, pointing to an object with writing (??) with the other.
Bottom right: yellow thing in one hand, not sure whether the top part belongs with it, in that case it looks like a vegetable. White globe in the other. One can argue that the white globe is part of the background, but the way the hand is held suggests to me that it is an item.
Interestingly, a white globe is also held by this figure mentioned recently by Davidsch: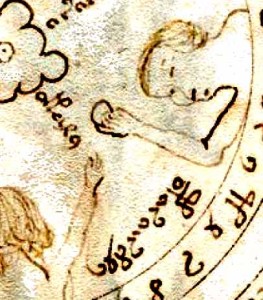 In both cases, the globe is held up in the figure's right hand (proper).
So what are your thoughts about these nymphs? Has the "writing" been studied before? It almost looks like som kind of tablet...