(01-10-2016, 09:38 AM)

stellar Wrote: You are not allowed to view links. Register or Login to view.

(30-09-2016, 06:11 AM)

-JKP- Wrote: You are not allowed to view links. Register or Login to view.Stellar, this is what I get when I apply your system to the circle you claim adds up to the numbers in PI (3.14159):


It doesn't vaguely resemble the number for Pi.

JKP,
I'm afraid you are wrong in the arithmetic department and yes I did have to correct some errors however the outcome remains Pi.  You and I may disagree on the translation of a couple of glyph's here.  Yet I feel these can be called either way thanks for bringing this up.  

...

Stellar, it's both inconsiderate and misleading to make statements like that without backing them up.

My arithmetic is not wrong (and I think you know that).


Here are the numbers again and if you have a sense of fair play and decency you will either point out

which one

is specifically wrong so we can discuss it, or you will acknowledge that my arithmetic is correct...

6 3 6 8 8     = 31 = 4
3 6 8 1 5     = 23 = 5
9 2 6 5 6 5  = 33 = 6
6 8 6 8 9     = 33 = 6
6 3 5 6 8 6  = 34 = 7
9 3 5 1 5     = 23 = 5

As for interpretation of the glyphs (and thus the numbers assigned to them)...
I probably have a lot more experience in interpreting medieval scripts than you. I can fairly comfortably read Gothic book, Gothic cursive, textura, Carolingian, Anglicana, Italic, and Gothic secretary hands in several languages, so if we disagree on the interpretation of the VMS glyphs (and thus the number assigned to them), then we disagree, but that has nothing to do with whether the arithmetic is correct. The two issues should not be confused with one another.
I made my own transcription of the entire VMS document, labels and all, so I have copied every single glyph in the entire document and am familiar with the various hands and how the scribes drew particular letters. That doesn't mean my transcription will be perfect, some VMS glyphs are messy or filled in or very faint and hard to read, but I'm going to trust my interpretation of the glyphs better than someone who has never made a transcription.
So here is a comparison of your interpretation of the glyphs and mine (with the numeric equivalents based on your numerology chart):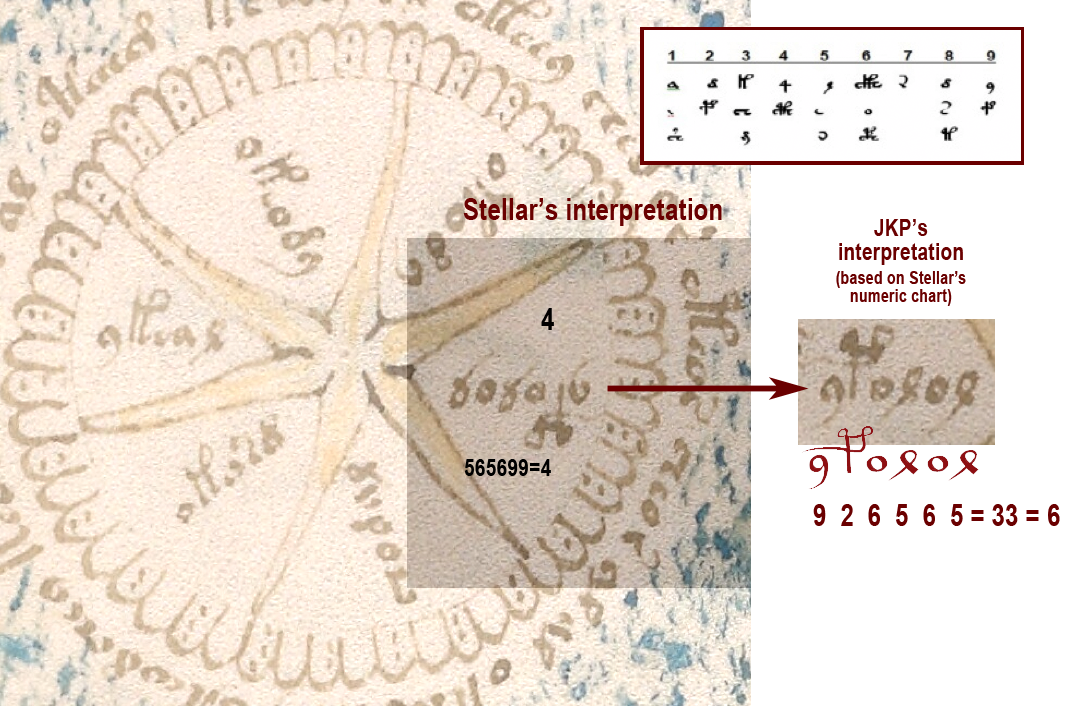 The Voynicheros can decide for themselves which is more accurate.
In my opinion, your credibility is at stake because it looks like you are conveniently juggling the glyph interpretations so the numbers come out the way you want them. You need to scrutinize this more carefully and check your work, especially since you are putting this in books and charging people for it.