My schedule just got shuffled and I'm ending up with an unexpected (and welcome) lunch break, so I thought I'd post this quickly before I have to run again. I've broken it into pieces since I'm still having trouble posting more than 10 images (note to mods... is there more than one setting that needs to be changed to accommodate a larger limit?).
Some crossbows of interest I came across the last couple of years while searching for crossbow imagery that I tried to post earlier:
Here is a small selection of what I found in addition to those already posted...
Left, Malay crossbow. No sign of a stirrup or trigger so either the drawing is oversimplified or it's a primitive style. Note the Asian style of drawing and dress. For comparison, next to it is an early 14th-century English stirrup-less crossbow with a shorter stave. It's interesting that the Asian bow is being loaded with one foot (quite the feat) while the English bow is being loaded while sitting and using both feet. I guess in England they don't have to worry about being bitten on the butt by a scorpion or cobra.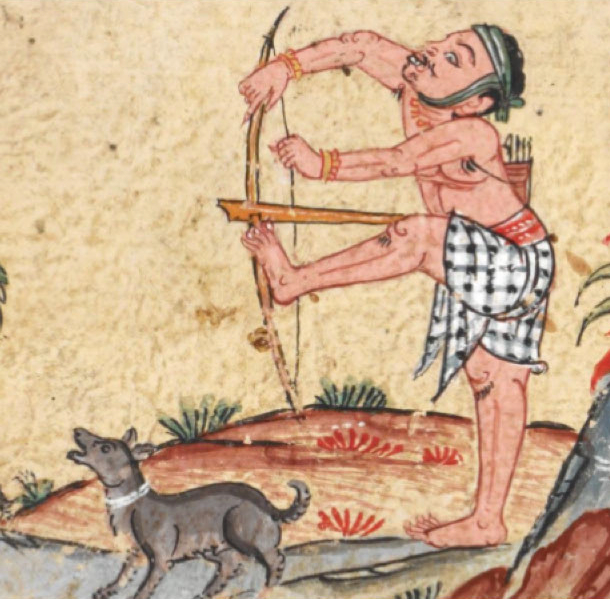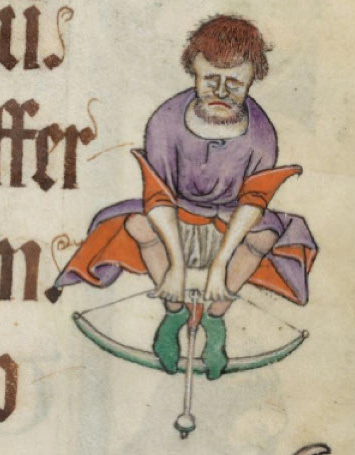 From tools of warfare and, right, from Cadamosto's Lunaria page. The tools of warfare manuscript has several images of crossbows: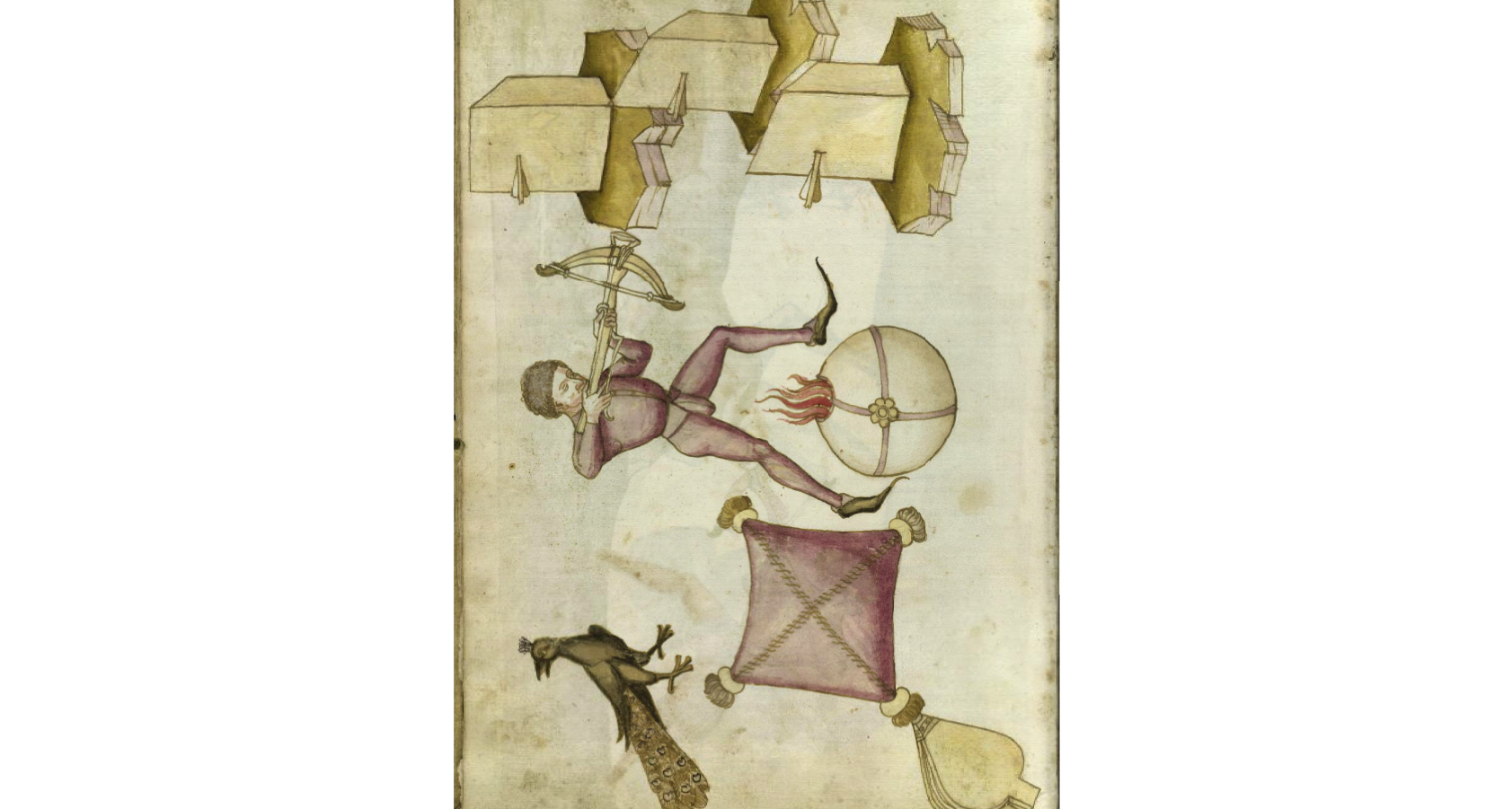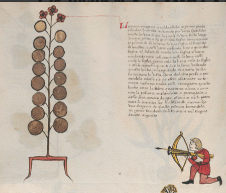 Here's one that's tough to spot, tucked into the calendar embellishments for Aquarius (Paris c. 1418), a centaur with a crossbow (left). I found this one shortly after I published the map but since it's a four-legged beast rather than a human, it's less similar to the VMS representation than others. On the right, another early 14th c English marginal pic with a round stirrup. I assume this is a tonsured monk rather than a guy who got nipped by a bolt fired by someone behind him.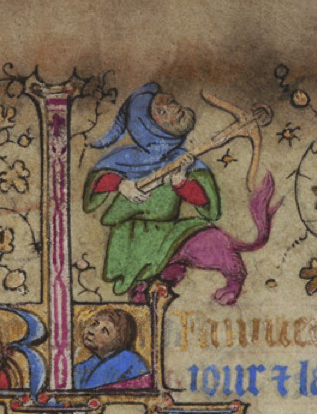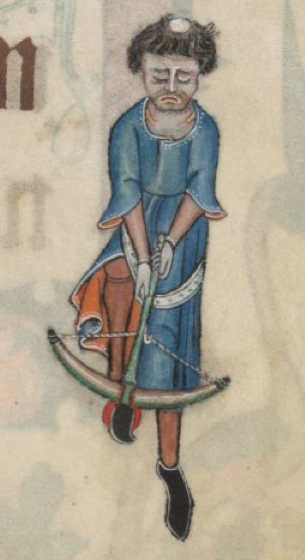 Two more from the Luttrell Psalter (not zodiac-related and essentially the same as the round-stiruup models above) but noteworthy because the artist rotated the trigger in the drawing on the right so that both the stave and trigger can be shown at their best angles for comfortable viewing and aesthetic impact (side views of staves are uninteresting and uninformative):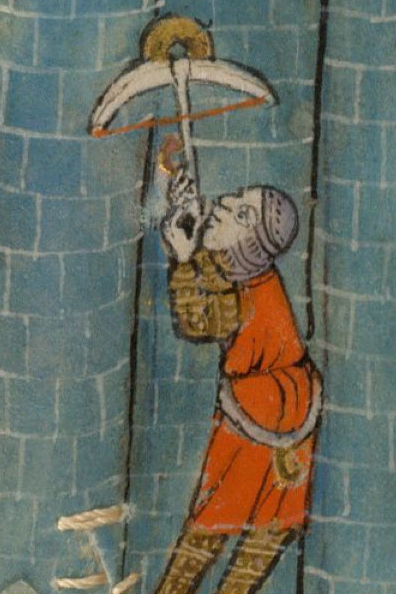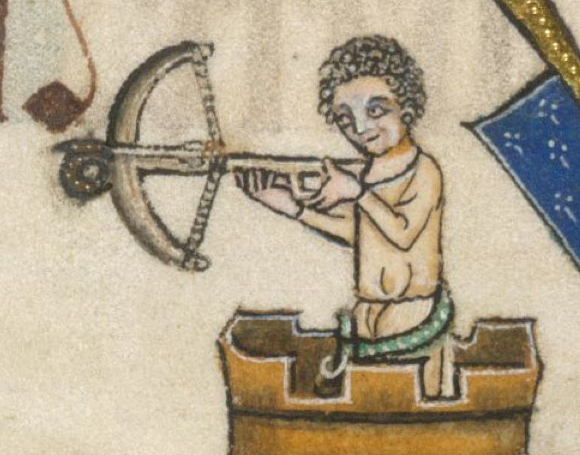 Square stirrup from a germanic manuscript (bowman not zodiac-related) and a more detailed round stirrup (right) drawn by a illustrator who not only draws crossbows more accurately, but also draws fingers more accurately than the VMS illustrator:

---
Crossbow drawings with less detail... Left, a round-stirrup hunting bow (France) and, to the right, S. Germany late 15th century. The artists only put in as much detail as was necessary to convey the general impression of a crossbow.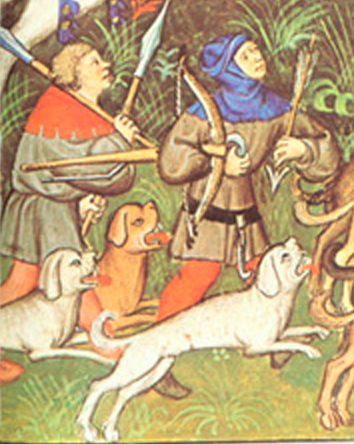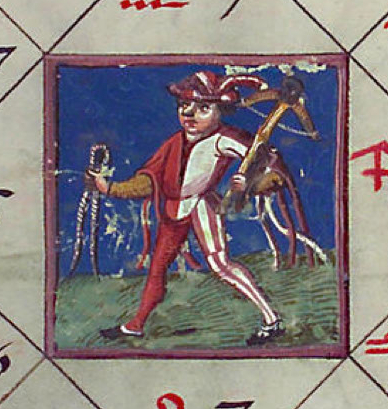 War bows (notice the heavier shafts). The one in the middle depicts an England/Normandy battle. Far right, early 15th c, a hunting bow with no stirrup: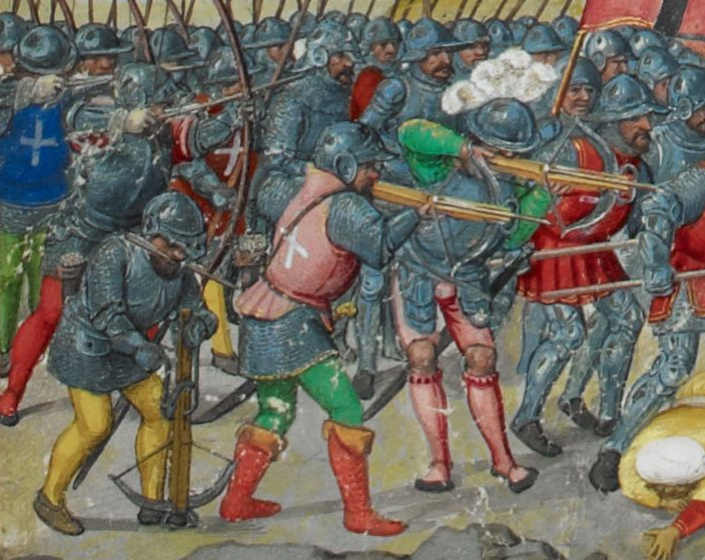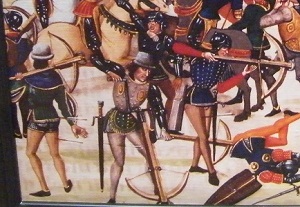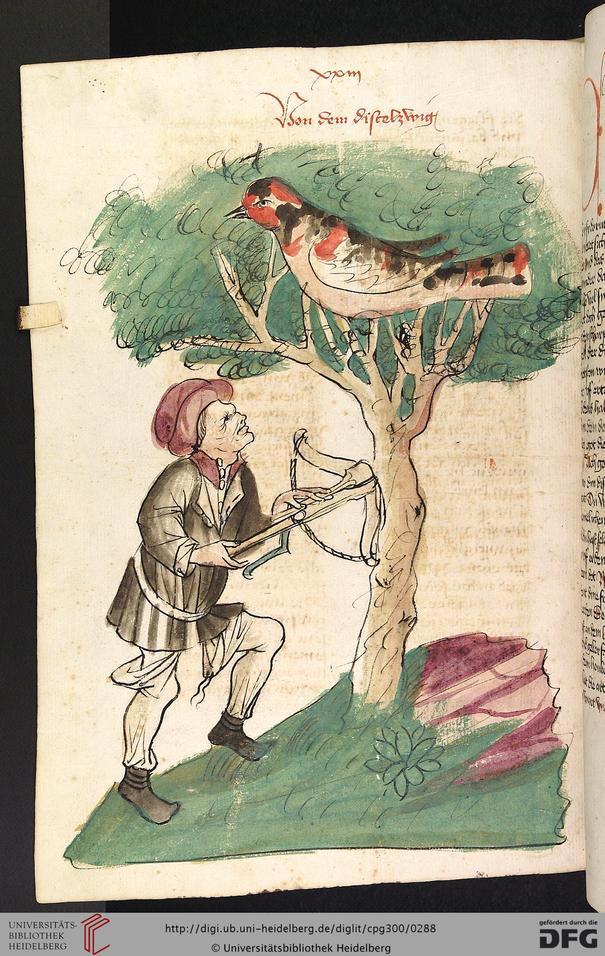 Left, Hussite (Bohemian) round stirrup. The staves and shafts are very slender, which might be an artistic choice rather than the way they were made since Czech crossbows are generally similar to others in western Europe. Right, target practice—crossbow with a flattened stirrup (there are also hunting bows with round stirrups in the same manuscript). I found this one interesting because the long trigger is similar to the VMS drawing and... notice also the wide sleeves of the tunic which are less common than narrow: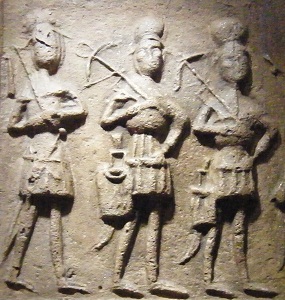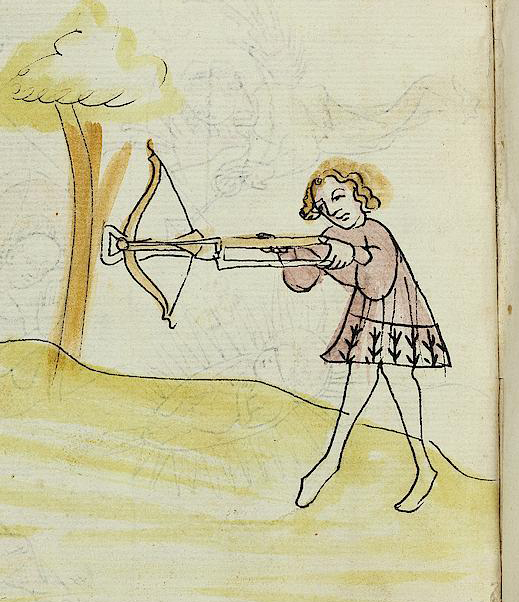 Left: round stirrup, England, early 14th c. Right, semi-automatic Chinese crossbow—a formidable weapon with multiple bolts and rapid-fire capability that was in use when Europe was still using primitive bows: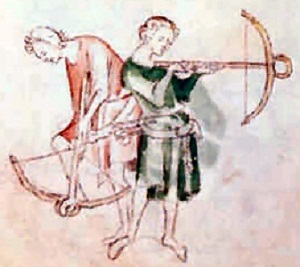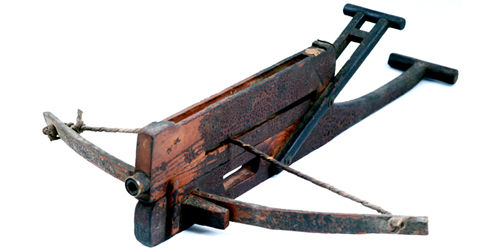 ---
(Hmmm, it won't let me post more than 10 per message, but it will combine the posts if the additional ones are added as "New Post".)
Left, more war bows (St. Gall). The two on the right are noteworthy for their similarity of style and also for the greater detail where the stave connects to the shaft... Middle, early 14th c German, a crossbow with more detail than most 14th century drawings. Right, a similar drawing from a Jewish bible: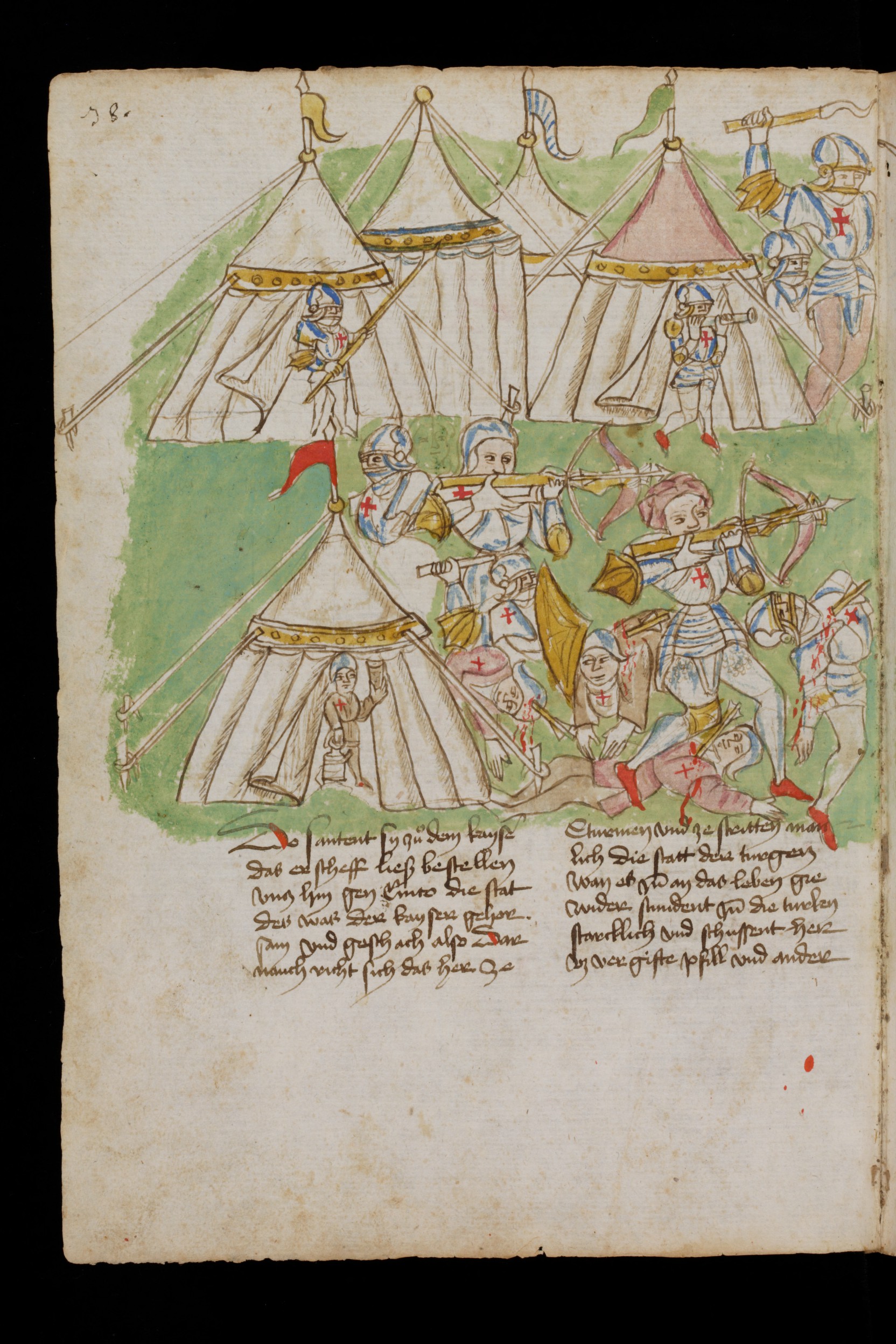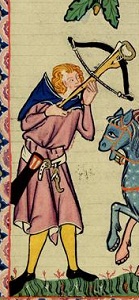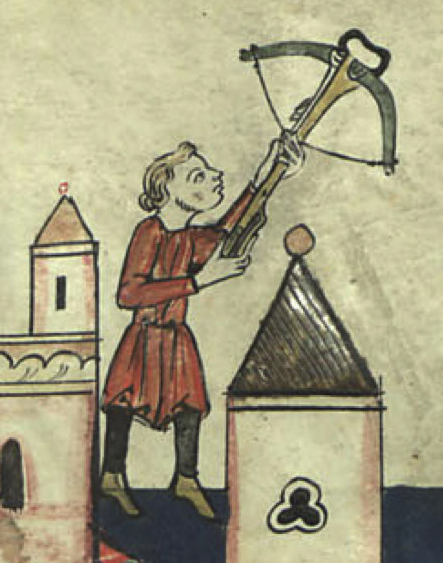 "Oriental" crossbows (as they called anything east of Egypt in those days). Notice the unusually long shaft and trigger on the one on the left. I don't know what benefit a longer shaft might have since extra weight is rarely a benefit for something that has to be carried through the woods or in battle. I haven't yet been able to find a 3D replica of the one on the left so I don't know if it was meant to be held vertical like a longbow or whether the artist rotate the stave in relation to the trigger in order to make it easier to see both (I suspect he did):