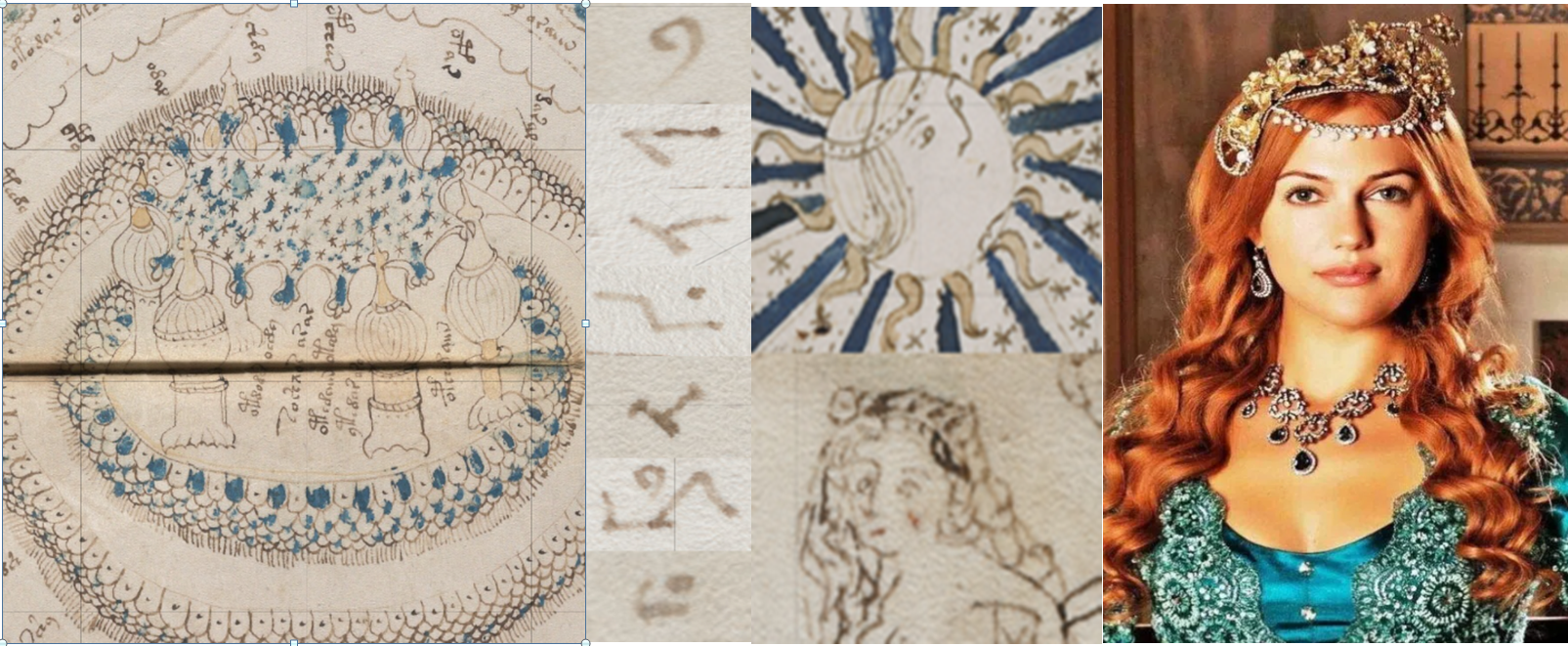 Hi everyone,
From the number of views I see that you are interested in solid information about the VM so I will step you trough. 
Just keep an open mind and forget everything you read before (if you can't read something else).
I suppose you have looked at the book and noticed that beside some double pages there is only one big fold out, the ROS page. Covering 6 pages this is obviously the most important page of the book. Seeing buildings, walls, and blue water ways we deduct: it is a fold out map. Ancient maps were centered on ones
hometown
and the circles represented the corners of the world (check the internet). The center of the map shows four Islamic minarets (not the mosque itself!), and the European or Asian castles are in the corners. This identifies the hometown was an Islamic state, and the only such at the time was the Ottoman Empire. On many pages women are depicted with for that time unique Ottoman fore-head ornaments and hairstyle. 
Several Ottoman characters are shown on 57v and 66r, with letter Waw (w, v, o, u) that looks like a nine, used in the VM 17,000 times in same positions at beginning and end of words like in Ottoman or todays Arabic.
LOOK at all these convincing facts yourself using the links in the article.
In 1453, Mehmed II conquered his new capital Constantinople, and transformed 1000 year old Hagia Sophia Cathedral into a mosque by building Islamic minarets
around
 it. The ROS page accurately represents this millennium event showing the minarets while
omitting
the cathedral, the symbol of the enemy's religion. 
The Ottomans had secret knowledge of the trade routes to America and Asia before Columbus, as evidenced by the Piri Reis map, a 1513 document compiled from much older documents. American native plants are depicted in the VM.
This should do, because:
So far no one presented
any other
visible proof for the location of the book's creators.
Tomorrow we will look at the encoding.
You are not allowed to view links.
Register
or
Login
to view.
htt