(05-08-2020, 08:52 PM)

nickpelling Wrote: You are not allowed to view links. Register or Login to view....if (as with the Voynich Manuscript), you look at a pre-1500 text or ciphertext with spaces, there is no reason to think that the spaces are anything but word separators.
TLDR: Voynichese does not seem to be a simple substitution cipher of a European language, not a simple verbose cipher of such a language.
I am only too happy to follow what Nick says and consider spaces as word separators.
But, though Bakker's conclusion of meaninglessness is not well-grounded, I think he has a good point here:
Bakker Wrote:The average word length for the Voynich manuscript appears quite similar to those of English and Latin, which again suggests that it would be written in an alphabet rather than an abjad, and that the language type is not polysynthetic like Greenlandic, nor isolating like Chinese.
...
The Voynich text too adheres to Zipf's law, which might suggest that it is in fact a natural language. But, since computer analyses did not result in a convincing match with any other language, probably not a known language with transliterated letters.
One way to look at this is conditional entropy: this property is not altered by simple-substitution ciphers, so it gives us a way to compare written languages with Voynichese without making assumptions on any specific character-by-character mapping. Voynichese has a number of glyphs that is comparable with that of alphabetic writing systems. Of course this number varies with different transliterations, but conditional entropy remains low with various encodings. Low entropy together with similar alphabet size suggest that Voynichese must be compressed to make it comparable with written natural languages (I think this was pointed out by Rene). If the VMS were a verbose cipher, decoding it would be such a compression. But another effect would  be reducing word length.
The following plot shows average word-length (X axis) and conditional entropy (Y axis). The plot was cropped to the area close to Voynich  samples. Language files come from You are not allowed to view links.
Register
or
Login
to view..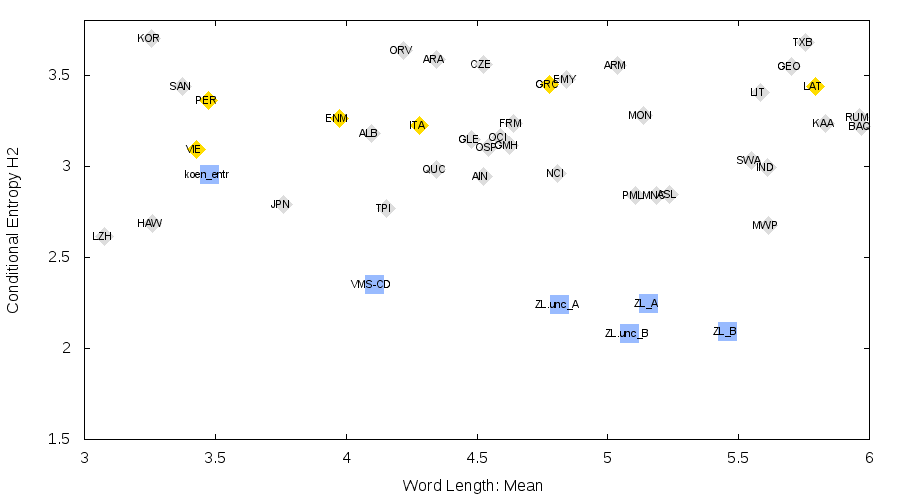 You are not allowed to view links.
Register
or
Login
to view. recently experimented with replacements that transform EVA into something with almost a normal entropy level. The average average word length for EVA ("ZL" in the plot) is ~5.2, for the Currier-D'Imperio system (CD) it's 4.1. The X axis of this plot shows that word-length is comparable with:
ENM (old English) 4.0
ITA (Italian) 4.3
GRC (Greek) 4.8
LAT (Latin) 5.8
Koen's transformations take average word length down to 3.5, close to Persian (an Abjad) and Viet (a monosyllabic language).
So it is not clear that Voynichese can be mapped to a European language in such a way that  both word-length and entropy are right. Fixing entropy breaks average word-length.
So, Bakker is right: Voynichese is not a direct transliteration of a European language. This is something we already know: we have seen enough one-to-one translations.
Koen's experiment suggests that a verbose cipher of a European language does not fit either. A verbose-cipher could still be a component of the cipher system, but it should be paired with something that shortens words. Low entropy and a limited number of different characters are not compatible with abbreviations like those we see in medieval manuscripts, but maybe something like an abjad where some sounds are not written could be an option.
If, following the similarity with Vietnamese, one interprets Voynichese words as syllables of a European language, Nick's axiom is violated; moreover, one has to conclude that labels are not what they seem to be (i.e. whole words related with illustrated items).
So, when we find languages that appear to share some properties with Voynichese, we should also check conditional entropy, if the idea is a simple-substitution cipher or a direct phonetic encoding (which is a very similar concept).