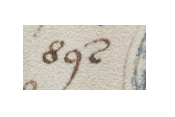 One must not underestimate simply the cryptology.
Example:
Single character, ending, combination.
Interesting because the combination is behind the ending.
If I take the 8 as "t" and the "9" as um, I get "tum".
I don't have to explain what "tum" means.
Now a "c" as an e, and a ")" as combination abbreviation "t". Already I have an "et".
Everything is possible individually. But all together works too. In this case it is "tumet"
Funny because it is located next to a bathroom. It also means it is nourishing.
For me it is clear, he uses 2 alphabets. The normal and a combination alphabet. And of course also endings.
For the 14th century everything normal, and to learn in one hour.
But that is by far not all.
If I now take just one word, they will moan.
If I use the Google text translator, then they also moan.
Actually they have been moaning for years, but have not yet received an alternative, but a lot of criticism. But unfortunately no educative one.
A good text translator Latin-German would be a start.
Translated with You are not allowed to view links.
Register
or
Login
to view. (free version)