(10-03-2019, 04:17 PM)

VViews Wrote: You are not allowed to view links. Register or Login to view.There is another parameter to consider here: in pisces and dark aries, the tubs are very ornate, except for two in dark aries.
Then in light aries there stilll are decorated tubs but the design is much more sparse, sometimes they are completely plain (I am not counting paint here, just the drawn designs on the tubs). 
By the time we reach dark taurus, the tubs are all plain, except for one which features an "arches" motif that seems to be a later addition in darker ink.
My first impression was that the artist originally planned to do the whole section like the first two pages, but this became really tedious and the program was simplified.
The problem with this explanation of course, is the sporadic reoccurrence of tubs later on, which does seem to indicate that their presence/absence is meaningful.
This is where i get my ages idea, it seems like a progression through time, and the timing of the tubs disappearing in the sequence matches pretty closely with what we now think of as the dawn of civilization. If you imagine the ornate tubs as cathedrals or castles, then you can see what i mean. Or it could simply refer to housing in general, like the 3 little pigs' abodes, a progression of shelter. But the decoration lends itself more toward the artistic aspects of specialized buildings, the ones that are instantly recognizable in paintings or photos today and that identify the place and culture depicted. I dont know if the decorations drawn are random, they seem to be, at least in some cases.
The tubs in the centre of pisces are all decorated in a similar way. I think it denotes mollusk damage, and the green means submerged in sea water. 
In the above case it has to do with volcanic depression and uplift, but also, sea levels had been rising steadily for 400 years.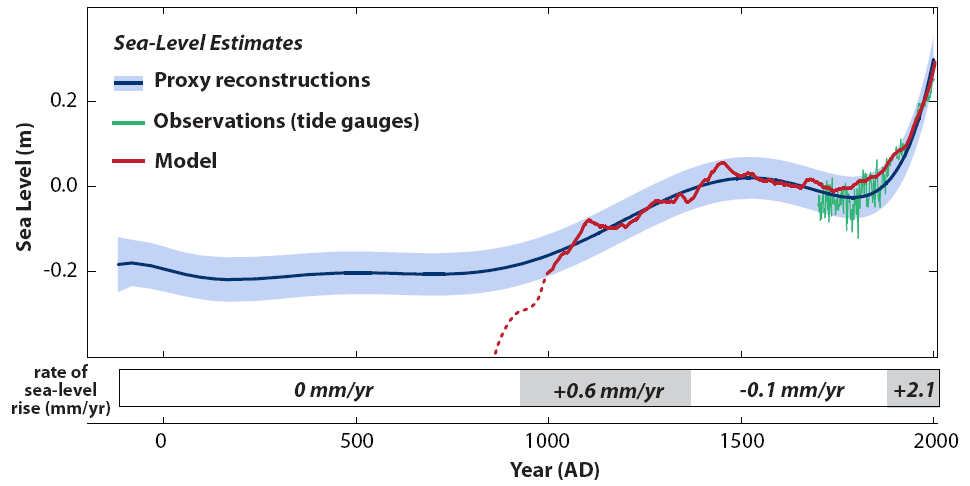 The graph shows how sea level changed over the past 2000 years. There are four phases: 
Stable sea level from 200 BC until 1000 ADA 
400-year rise by about 6 cm per century up to 1400 AD
Another stable period from 1400 AD up to the late 19th C
A rapid rise by about 20 cm since.
You are not allowed to view links.
Register
or
Login
to view.
Given they wrote the vms near 1400, they did not know sea level would even out for 500 years. If it hadnt, the prediction could have come true. Instead, it becomes a prediction for our time. 
They seem to have been optimistic about the future though, with even more varied decoration to the outer rim, or end of the age, the one we live in now. 
It says to me that people should update their civilisations based on learnings from the past. Just as today it would likely be a mistake to continue to build in coastal areas or those surrounded by active volcanoes.