(01-02-2019, 05:07 AM)

Alyx Black Wrote: You are not allowed to view links. Register or Login to view.[quote="Linda" pid='24658' dateline='1548987459']
Hi Alyx,

I have many problems with this being body parts. Entertaining the idea just leaves me with a bunch of questions.


Quote:


Hi Linda I think in my opinion the book shows problems of health, so I think those tubes are endometriosis and the three nodes fibroids.
I went searching and convinced myself of some possibilities. But your reply doesn't convince me, because most of my questions are still unanswered, whereas what you said kind of erased some of the anatomy i thought i could see and replaced it with something else that i could not see at all as being so. I would need a better explanation, i guess.
If the tubes are going to be anything to this effect, they'd be uterine tubes, ovarian ligaments, or blood vessels, in my opinion. I can't see how they would indicate endometriosis, which is uterine lining that escapes and goes elsewhere, to go through the menstrual cycle where it doesn't belong. How could that be a tube? If anything was going to be endometriosis, it would be the frilly stuff around what would be the uterus in the middle since there is no reason i can think of for there to be frilly stuff there.
The fibroids, well, i suppose. But it isn't clear though, is it. It doesn't feel like it is telling you how to identify fibroids or what to do about them or even say 'here, look at what i found in this dead woman's abdomen...' 
One ovary bigger than the other and giving more trouble, yeah maybe.  
I guess i am somewhat biased since i think the quire is geographical, but i leave room for there to be other meanings intertwined. I also see a myth being involved.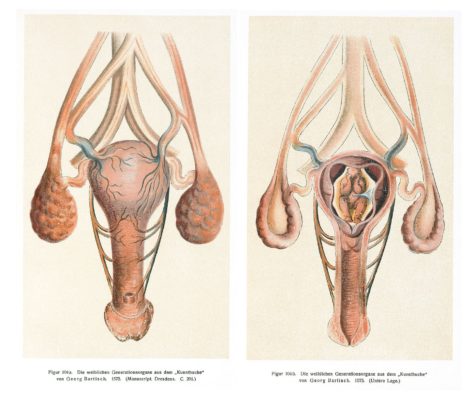 So what are the other health problems you see laid out?