If you look at images of the Carthusian monastery in Seitz/Žiče , you will see a good example of saddle-back roofs that came from one place and were built in another (in other words, had a somewhat multicultural flavor). This was at the time when this region was within the germanic sphere of influence (more multiculturalism).
From Wikipedia (photo credit: Ines Zgonc)
In the 14th century, saddle-back roofs were associated mostly with the Alsace, parts of Bavaria, and parts of Burgundy (what is now southeastern France) so... how does a saddle-back roof suddenly turn up in Bohemia (what is now Slovenia)?
The monastery was built and occupied by Carthusian monks from France and they brought their customs with them. The original St. Bruno hermitage was in the French alps in what was Burgundy, just north of Provençe (a multicultural area in its own right).
Carthusians weren't specifically French (there were Carthusian monasteries in a number of places, including northern England) but had strong ties to France through this origin. Some of their more eastern priory towers had onion domes rather than saddle-backs (or both).
Their emblem includes seven stars (hinted at in this manuscript from Yorkshire):
They were quite dedicated to literary pursuits (as long as they had ecclesiastical content) and some of the manuscripts from the remote monasteries have the same humble style of page arrangement as the VMS, including text that rambles across the page and drawings that have charm but are not of the highest artistic quality, such as those from the Mount Grace priory (others, like many of those from Žiče could be quite professional):
You are not allowed to view links.
Register
or
Login
to view.:
Medieval entry towers didn't usually have ramps or ladders but often the walls behind them had buttresses, like this one from 1397 St. Cyril-Belozersky monastery (St. Cyril was of Russian orthodox background). Note the flag finial, which is usually associated with parts farther west (the monastery also has onion domes):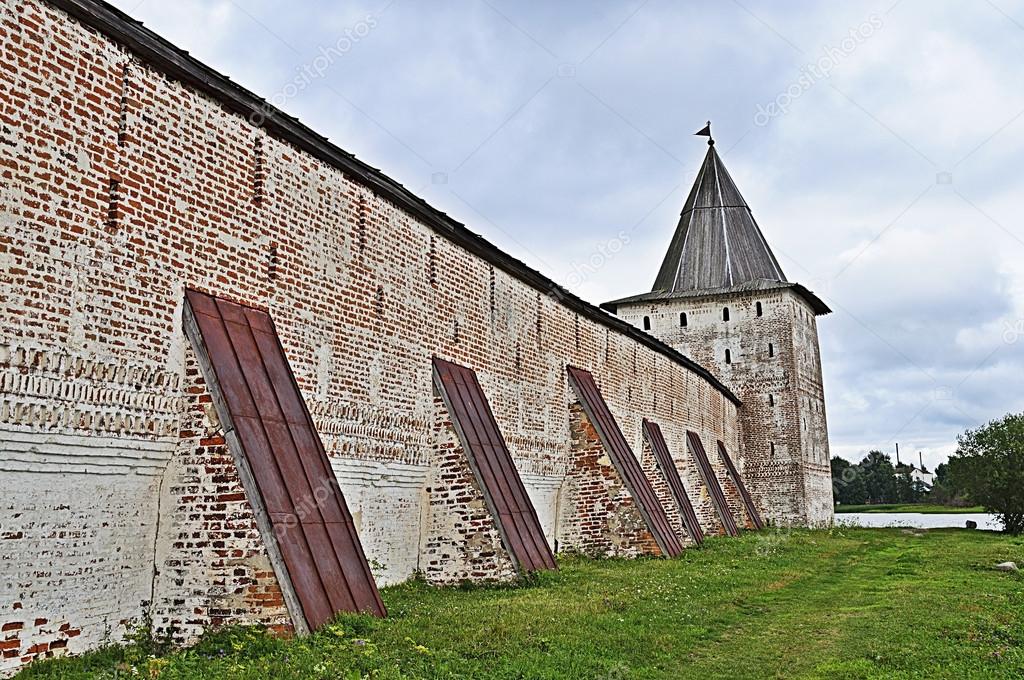 Photo credit You are not allowed to view links.
Register
or
Login
to view.
Medieval watch towers quite often had ladders, but being made of unvarnished wood, they probably didn't last more than a dozen years or so and probably none of the original ones have survived.
This tower at the Humor monastery (Romania) has a ladder built around the tower, but the original ladder may have been simpler (extending only in one direction):
Photo credit: You are not allowed to view links.
Register
or
Login
to view.
I don't know what that angular thing in the VMS drawing is meant to represent (buttress? ladder? rope being tossed out? bad perspective-drawing?) but it's interesting that the illustrator took the time to include it.