This is not medieval, it's early 19th century, a picture of the Almolonga volcano in Guatemala, but the star and the way it is drawn is interesting, and the rough terrain (the VMS "map" has always looked to me like fairly craggy/bumpy terrain, especially moving up toward the volcano thingie) is represented.
Source: You are not allowed to view links.
Register
or
Login
to view.
The first time I looked at the VMS map, rotum 1, it looked to me like either a volcano or the Mount of Olives, Jerusalem (I also considered that it might be a colosseum, as Jerusalem had a "hippodromus", or perhaps a regio mortus (a crater-like burial area), and a few other things and, a little while later, a hell-mouth). Since so many had taken pilgrimages to Jerusalem in those days, I spent months looking at volcanoes (in general) and specifically the topography around Jerusalem to see if I could find a physical match.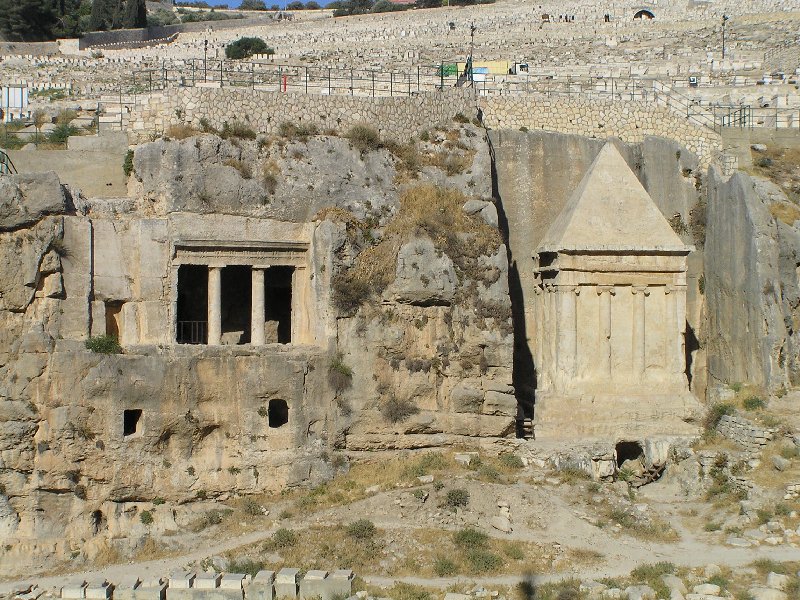 Left, 15th-century map of Jerusalem drawn from the Mount of Olives (above the Garden of Gethsemane). I considered whether old tomb traditions in Jerusalem (right) might represent "the tower in the hole" except they were typically square.
I never was able to find a
really
good geographical correspondence to the area around Jerusalem, even though many individual pieces seemed to fit, so I became skeptical that the map (or parts of it) represented Jerusalem (the actual Jerusalem, not the mythical "new Jerusalem" of medieval fame) and put that idea on the back burner (quite a way back).
The first volcano I looked at was Vesuvius (using Google Earth) because I knew the crater was eye-shaped, like the VMS shape. Then I checked out pretty much every other volcano on the planet.
Recreation of what Vesuvius may have looked like in late medieval times. Notice the "pipes" in the walkway bottom-left. They reminded me of pipes on the VMS "map". Could they be steam vents???? You are not allowed to view links.
Register
or
Login
to view. Vol 69
When I looked at colosseums, as another possibility, I discovered that they were sometimes flooded for water-sport entertainment. I didn't know that and that was the moment when I realized the shapes that I thought might be flames could be water instead and that sent me off in another dozen directions but didn't completely remove the idea of volcanoes, because the craters sometimes turn into lakes.
The colosseum of Pozzuoli [visiteguidatecaserta.it]            A colosseum flooded for water sports (in this case a mock sea battle)
Stromboli is a volcanic island near Sicily. We don't have specific records of eruptions before 1558, but it was simmering and active for a very long time before that.
Stromboli island volcano. Hamilton and Fabris, 1776
I haven't given up the idea that it might be Vesuvius (or one of the many craters around Naples or Sicily). It's craggy there, and there were many thermal baths, and rotum 3 resembles the island of Nisida, which has a semi-hollow center, used to have a castle at the top, and sticks out into rougher water. I thought the map might represent a journey from the southern Tyrol/Alsace or Lombardy (now northern Italy) to the Lombardic colonies in the southern boot, where there were medical schools in Naples and Salerno (medicine = herbs), a volcano, and thermal baths.
Many medieval university students traveled between the universities of Heidelberg, Paris, London, Pisa, and Padua, and the medical schools in the Naples/Salerno/Bari area (sometimes passing through Montecassino if they traveled by land). In those days medical students studied herbs, astrology, anatomy and the philosophies and works of classical sages (Galen, Pliny, etc.), all of which seem to fit the topics represented in the VMS.
Here's a late-15th century depiction of the volcanically active area north of Sicily:
You are not allowed to view links.
Register
or
Login
to view.
Many of the apocalyptic manuscripts combined volcano-like themes with hell-mouth (and other) themes. That's actually what brought me to the hell mouth idea (which I think Ellie may also have mentioned). I had been looking at volcanic themes and the way animals were drawn in the various apocalyptic manuscripts and it suddenly dawned on me that volcano-style hell-flames and hell-mouths were often combined.