D. O'Donovan [corrected] posted an excerpt of Latin text on her blog and included the interlinear expansion of the abbreviations You are not allowed to view links.
Register
or
Login
to view..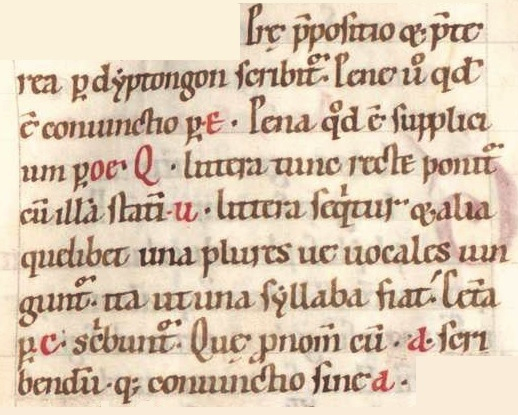 The original manuscript
is BSB CLM 13031
f12r], but I didn't see a credit for the expansion, and I noticed there are mismatches between the original and the expanded text, so here is my version, which I believe is more true to the original (note that letters in red in the original are likely intended to be capital letters).
P
rae
positio*
et
p
rae
terea per dyptongon scribit
um
. Pene v
er

o
, q
uo
d e
st
coniunctio, p
er
E. Pena q
u

o

d
e
st
supplicium p
er
OE Q. littera tunc recte ponit
ur
, cu
m
ill
i
a stati
m
.U. littera seq
u
i
tur
et
alia quelibet una plures ve vocales iungunt
ur
. ita ut una syllaba fiat. Cet
er
a p
er
.C. sc
ri
bunt
ur
. Que [Quae] p
ro
nom
en
cu
m
.A. scribendu
m
. que
coniunctio sine .A.
[*I'm not sure why the scribe has written this as
Pre perpositio
as I'm fairly sure
Prepositio/Praepositio
was intended.]
My version is not intended as a criticism of the one posted on O'Donovan's site, I just feel it should be as accurate as possible if it's going to be discussed on the forum (and I enjoy expanding the abbreviations).
I've been wanting to write in more detail about the way Latin was expanded in the 15th century, and have touched on it in some of my blogs, because it does dramatically change the statistical properties of word-frequency and other computational attacks, but can't seem to find enough time, so I thought this short excerpt might be enough to provide a start for a thread on the computational properties of medieval texts (note that the example above is about three centuries before the VMS).
[Latin abbreviations are old news to some members, but if you are not familiar with them yet, Cappelli is an excellent resource.]
Even if you study Latin abbreviations, and attempt to break the VMS text out into Latin (as has been tried by a number of researchers, and as has been recently attempted by P. Lockerby), that doesn't mean the correspondence between VMS glyphs or glyph-combinations is consistent. One can see in this short excerpt that "quod" was abbreviated in two different ways. It was not uncommon for words to be abbreviated four or five different ways. By the 15th century, long after the above excerpt was written, handwriting was messier, abbreviations more frequent, and consistency in the abbreviations even less than one sees in the above example.
These abbreviation systems were not limited to Latin. Scribes used many of the same conventions in their native tongues. If the VMS were Greek or Italian, for example, many of the same abbreviation conventions would apply except that the symbols are expanded into letters appropriate to that language.
So... AFA computat'nal attacks on lett'r frequency, et al, r concern'd...even if the VMS were a substitution code, the odds of it being one-to-one substitution are not very good. The use of abbreviations was deeply ingrained in the thinking of medieval scribes and the VMS has many short word-tokens (more than some of the transcriptions indicate).