(12-01-2017, 08:50 PM)

Anton Wrote: You are not allowed to view links. Register or Login to view.The identifications of this plant have been:

Th. Petersen: Paraenanthes, Atriplex hastata
E. Sherwood: Pisum sativum
Steve D: Tussilago farfara

The Finnish biologist does not consider this plant.

Of these three, methinks that Tussilago farfara is the best match. I'm not sure what does the small "pierced through" leaf stand for, though.

Turning to the mnemonic side, I can't imagine what would these leaves and roots remind me. If the roots in this case do not bear any mnemonics altogether, then they look to me as simply resembling real roots of tussilago. As for leaves, folk names of tussilago in various languages have been pointing to a hoof. The large leaf can be thought of as resembling a hoof (when looking from the ground upwards), but, if a hoof, the depiction is surely not the best possible. So I am not sure.

Are there any other proposed identifications from those who befriend botany?


---

Sorry, corrected the thread name - should read f8r.
I'm pretty certain this is
Tussilago
. There are two things that might confirm the ID, besides the shape of the leaf and the way it stands up...
See the green "puddle" under the VMS leaf?
Tussilago/Petasites
likes water, especially species like
Petasites spurius
, and the "puddle" in the drawing might indicate a reflection on the water when it floods and these plants are partly submerged. One sees a dark greenish small reflection of the leaf on the water.
Also, if you stand above
Tussilago
and look down at it, you will see large older leaves and some smaller, newer leaves growing very close to the stem of the bigger leaf and it often looks like the little leaf is attached to the stem of the big one (it's an optical illusion based on the way the plant grows new leaves).
But... one cannot say for certain this is
T.

farfara
because there are several species of
Tussilago
/
Petasites
with similar leaves.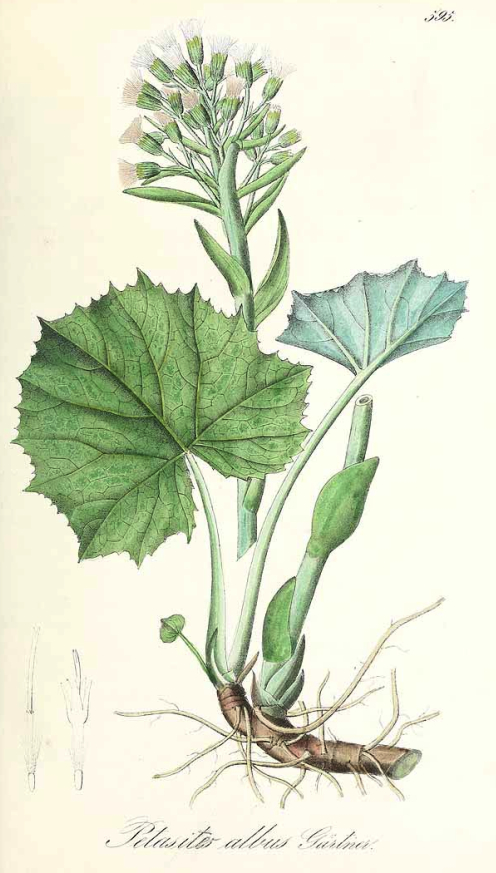 So, I'm
pretty
sure it's
Tussilago
, but in the interests of good research, I'd like to offer one other possibility...
There is a plant called
Mycelis muralis
(
Prenanthes muralis
) which was called
Sonchus in muris
in the very old days which has an unusual leaf (botanists call it lyrate). The top of the leaf looks like the VMS drawing, and under the top leaf are smaller "wing" leaves. It's easier to see this in a herbarium specimen than in a live plant. If one were familiar with the leaf, it wouldn't be necessary to include the flower in the drawing, because the leaf is distinctive enough to be recognized by this drawing.
Image credit: Anneli Salo (2008), Wikimedia Commons