A strong relation between hand and language has of course been claimed by Currier's 1976 presentation.
He proposed two language (A and B) and two main hands (1 and 2) with several minor hands, and a complete 1-1 mapping of A with 1 an of B with 2.
One of the first outcomes of the new work could well be to 'officially' overturn this hypothesis.
I have long had doubts about both classifications. They seem to be strong and valid for the part that has been transliterated by Currier, i.e. about 40% of the text, but much less so for the remaining part of the MS.
Starting with the hands, I am no expert, but the slanted, slightly cramped handwriting that I see in the Herbal-B pages does not appear to me in the other main B-language pages of quires 13 and 20.
I am greatly interested to see the new classification.
With respect to the languages, the A vs. B split seems largely valid, but there are intermediate forms, and there are internal variations, especially in the B language.
Already many years ago I looked at this using a form of Principal Component Analysis on vectors containing bigram counts per page, with the result that people should have seen by now (  ).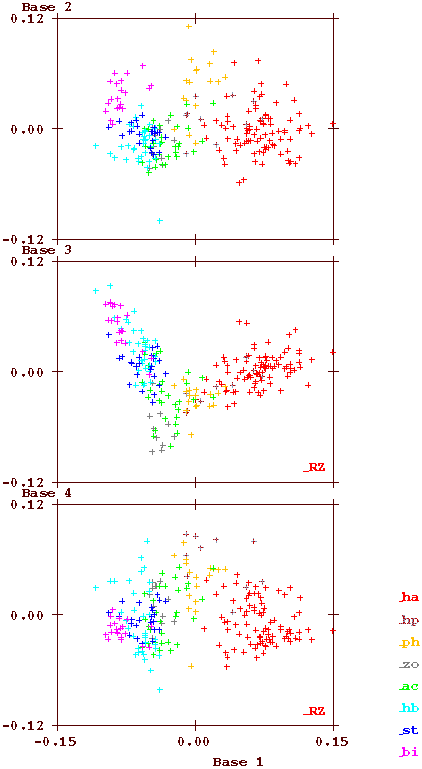 I recently found the software again and was able to reproduce this result.
It would be relatively easy to repeat this exercise, while not colour-coding the illustration type, but the 'hand'.
This would quickly show if there is a correlation, at least based on bigram counts.
Of course, there are other text statistics that might turn out to be representative, so this wouldn't be the final word.
Given that there may be more than one hand per page, I already prepared an update to the IVTFF format and my reading tool to cope with that.