Yes, i am afraid i would need more precise answers, my empathy falls more in line with JKP's frustration. It is hard to help when the basics of the ideas presented don't seem to have any basis, or are problematic at best, and answers to questions just bring further chaos instead of clarity.
Trying to understand her view, Rebekah can let me know where i am wrong. I will also give my own understanding of the items so that she can consider an alternate view and make rebuttal, since assuming she is right, she would be in a position to explain why the alternate view is erroneous.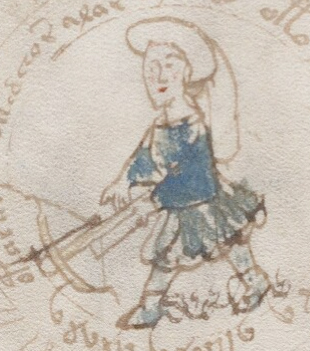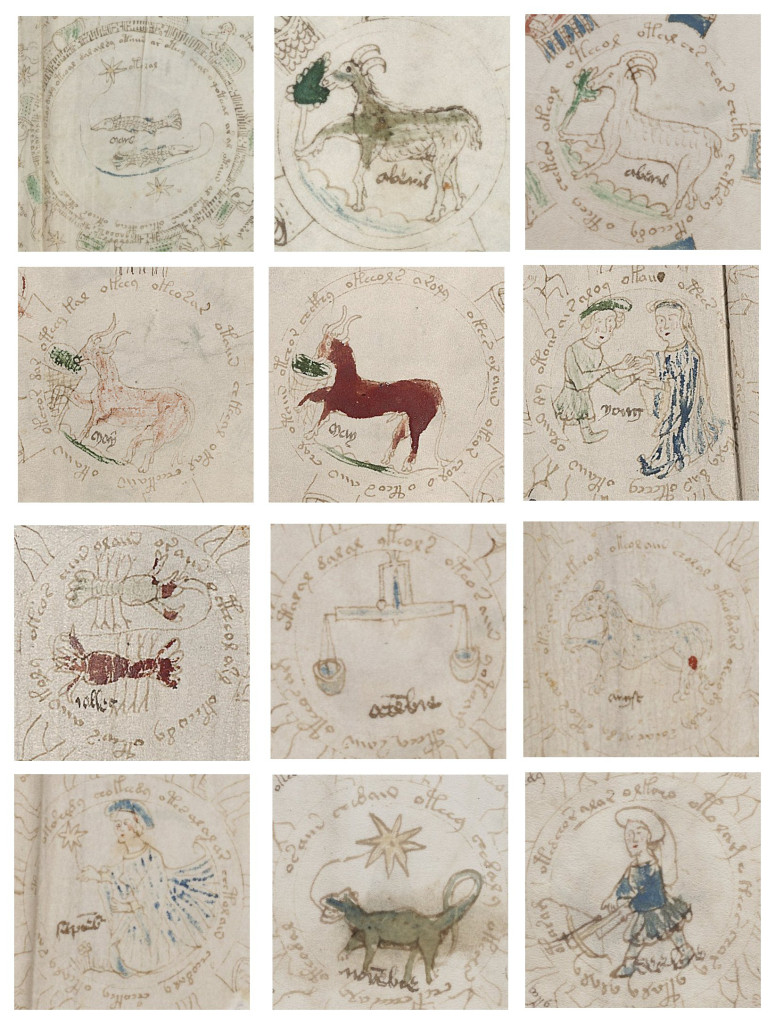 Here, we evidently have the author and his signature.
I think Rebecca is saying is that what we think of as Decembre marginalia instaed says Poar Lentz. I can almost see it when told that is what it says. The strange d becomes a slanted p with a preceeding flourish, the tall loop of the b becomes an l, the lower loop of the b becomes e...It is about equal in terms of readability, given the abbreviations of the original, one of which resembles the z in Lentz.
However, this last name is evidently Germanic in origin, and pertains to land or lands. You are not allowed to view links.
Register
or
Login
to view.  I did find some people who lived in the early 15th century with that last name, mostly in Germany and Poland. I found the name Poar only as a last name or adjective in the UK in the 19th century, but in some cases was definitely an alternate spelling of poor. Maybe that fits the tragedy of the story. I assume the crossbow is where the idea of his being a serial killer originated.
There is the problem of explaining the 1400s clothing. I see this and the carbon dating making Poar a 15th century guy if he signed his own name and wrote his own story. So why the ancient Hebrew, one that predates Paleo Hebrew no less, since it is lost to humanity? What was the need for that? Did ancient writings have to do with his crimes? Why didn't he just write it in a contemporary Hebrew variant? Which Hebrew dialect are we speaking of exactly? How is it that Rebekah knows this ancient language immediately, even though the Hebrew alphabet has been replaced?
With regard to the rest of the zodiac, i guess the nymphs are the pregnant women she is talking about, although i guess he must also have killed some men along the way, since there are some nymphs that appear to be male. I suppose female nymphs that don't appear to be pregnant still could be.
However the zodiac emblems become problematic, i guess that is not what they are in this context? Maybe Gemini are the parents, Virgo is the judge, Libra is the scales of justice, perhaps.
Rebekah has outlined some of the animals, the Goat of Sacrife (axuy in You are not allowed to view links.
Register
or
Login
to view. ) and the Goat of Atonement/Forgiveness (abinal on You are not allowed to view links.
Register
or
Login
to view. ) Banishment is evidently bovine (mouche on You are not allowed to view links.
Register
or
Login
to view. ). Firstly, those words are a stretch. Secondly, i doubt they are Hebrew, or words at all. But there is much more to explain, she does not explain why these labels appear different than the rest of the text, nor what the rest of the text denotes.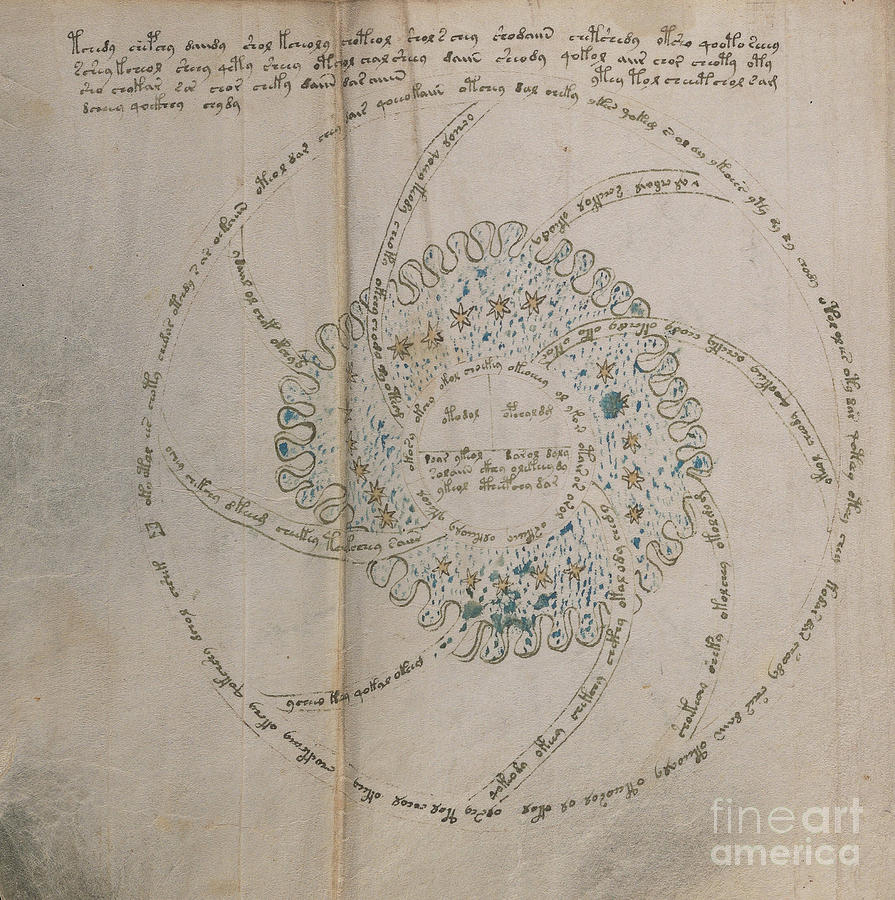 So here it evidently says in the circle, father something, mother something, and below that it says Poar and all the names of his siblings. 
atta-dae; which means "father-?"; the other word is: aphe-caedd; which means "mother-?".  
i was confused as Rebekah negated JKP's take, which was my own, about roar, but i think that was a misunderstanding and the first word in the bottom semicircle is the one supposed to say Poar, which is evidently the name of the author of this tragic story. By the way, if it is a genealogy, why does it say father something and not the name of Poar's father? 
But what of the rest of the circle? I don't see how stars and swirls come into the genealogy of a single family. I side with the cosmos idea, at least the stars fit into it that way. Perhaps we don't know the wording but it would seem to resemble a diagram of Earth.
Rebekah also said the rest of the circles with stars in that quire outline further genealogy. Grandparents and greatgrandparents' names in the adjacent circles, i guess, since there are four and then eight. What does all the other writing say? Dates and places, occupations perhaps?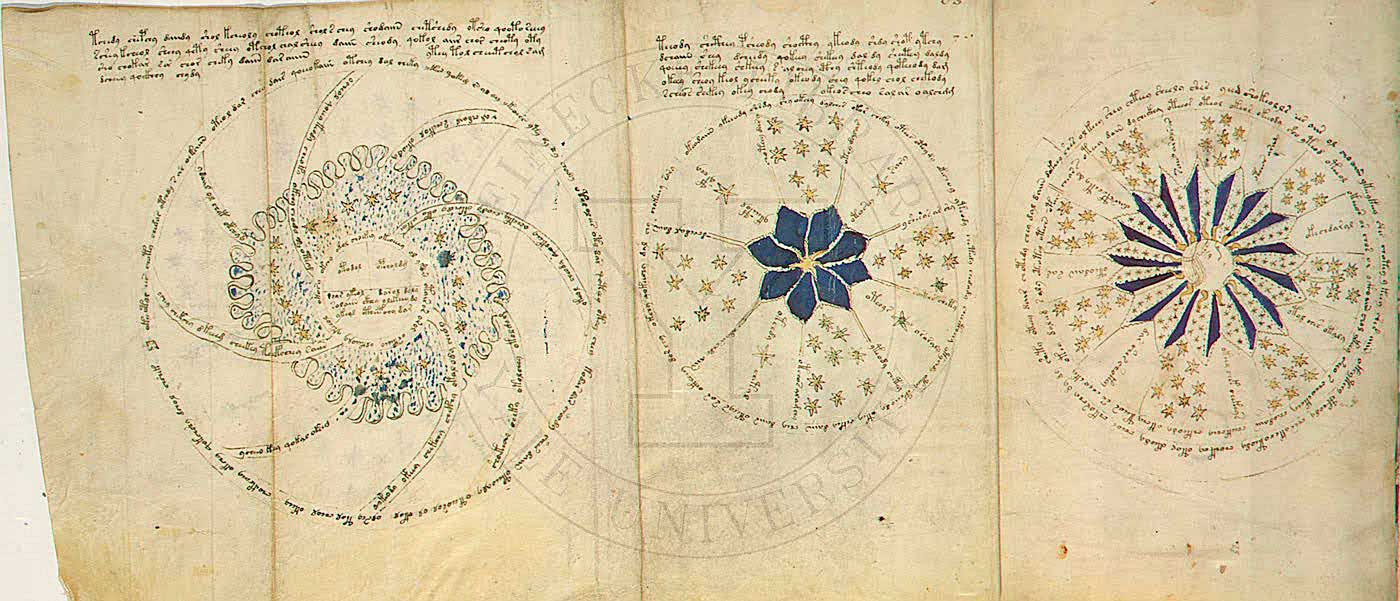 However there are pages of various preceding circles with stars that are much harder to see as being genealogical. These would need further explanation, especially in that they precede the family circle and yet the recent ancesters appear to come after the present family listing. Maybe Poar is the one who made the women pregnant in the first place and it is the names of all his unborn progeny. Or they weren't his but they are now, as he claimed them for his own by killing the mothers. I don't know, just trying to explain all the other circles in absence of clarity.
In terms of the two trials, and one conviction, i do not know where the duality comes in, but this is evidently a closeup of one of them, with another pic of Poar.
Not sure why everyone is naked at the trial. The women all cry tears of blood, evidently. Presumably because they are ghosts killed by Poar.
I can only assume the second trial is another of the quire 13 drawings and that the rest of them portray his banishment journey afterward. This last part might partially fall in line with my own geographical interpretation of the quire but i doubt it.
In terms of the rosettes, we have the compass rose which Rebekah is sure of since she can read without equivocation the four directions, with north at the top as seen in this crop. 
Evidently ancient Hebrew was not an abjad, scribes dropped the vowels out of laziness, assuming future readers would understand. So we therefore have vowels here. And it is read forward, presumably because of the Latinized alphabet.
North is written as "ottez", South is located directly under North and is written, "da"; East is written, "ade"; and West is written, "ora".  True story.
Some problems here because certain letters do not appear to be the same as letters used previously, like the r in ora appears to me to be a c with an accent, not an r rotunda as in ®oar or Poar. 
roar
Also, north at the top was a new concept at the time, even Fra Mauro's world map of 1450 was south up, but the Genoese world map was north up, and Oresme et al appear to have held a general north up view, so it is possible. How does this reconcile with using super ancient Hebrew, when the etymology of the Hebrew words is evidently linked with standing at Jerusalem (from the information in the links i posted, or was that erroneous information?). 
In my view of this section of the rosettes, it is located in Egypt. At least we agree the rosettes is a kind of map. Can we get more detail on what the map portrays and how it relates to Poar's journey? Seems to be a nice place in the end since Rebekah stated she wanted to go there one day. She said she knew where it came from and where it went because she is an avid sailor, or i would have thought it meant his death journey, so i am still confused on that point. Where did it come from and where does it lead? Rebekah has said she knows, more than once, but hasn't yet explained.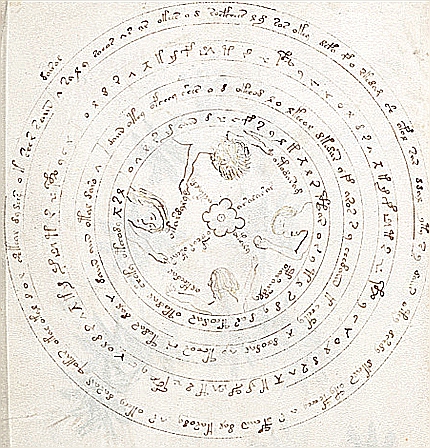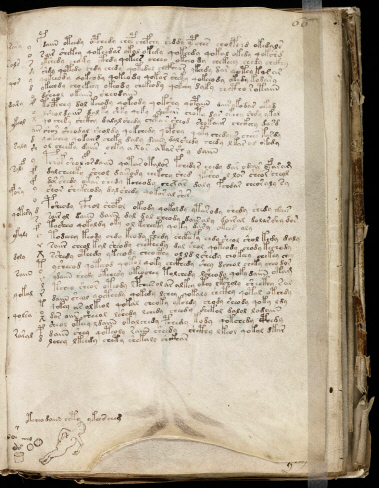 Here we have the alphabet..or alphabets. It is evidently obvious, although i admit i am missing clarity. Many people have said similar, but more explanation is needed, i think. If it is an alphabet, then it should be able to be mapped to others, should it not? These two don't even seem to map to themselves, certainly not with any sense of order.
No mention seems to be made of the plants, even though they outnumber the other pages. Perhaps Poar encountered them along the way.
So, let me know where i am wrong, but it appears to me that Rebekah cannot read this document, she can match patterns and come up with stories around them, yes, but that is no different than the rest of us. The ancient Hebrew aspect seems to be used as a lost language trope in explanation of why we can't we can't translate it and why we don't recognize the dozen or so words cherry picked out of the thousands that are there, and even so, the transliterations seem to make use of different letters in the so called ancient alphabet(s) for same letters in our own, and the concepts, dating, and clothing or lack thereof don't seem to jive either. So far she has answered most questions with only snippets of replies, usually not clearly, sometimes not even on topic, with many duplicate answers, and a tone not worthy of her meagre explanations thus far. I suggest she start at the beginning of the thread to answer the questions missed the first time around.
I look forward to the possibility that Rebekah's explanations may sort out some of the issues that currently exist in our understanding of her interpretations.
But oh..i just saw she has since been banned. Ah well. It does not appear she had the answers anyway.