How do you know it's not a hierarchy situation? Particularly on You are not allowed to view links.
Register
or
Login
to view. at the bottom. I can see it being possible given a humanoid, a fish, a reptile or two, and mammals, one of which may have become aquatic (green head in the water), it may not be a hierarchy per se, but many of the steps of evolution, or at least indications of the diversity of living creatures, are included, just as they are in the Dante image, so why could it not also be indicative of the same thought? If f79v were a depiction of the first human from Anaximander's theory, a fully adult human that had incubated in a fish mouth until the world was ready to be inhabited, this would seem like a step in the hierarchy, or at least a change in the status quo insofar as human development and species relationships going forward. The last moment of being devoid of reason. Before Eve. Before Adam. Lilith, in the guise of the serpent, (especially as indicated in contemporary Adam and Eve depictions, Melusine especially her genealogical aspect, and Anaximander's first human all intertwine in the fish lizard monster mermaid ideas of early humans on Earth.
Heaven as nine spheres...here is another coincidence. What if you took the nine spheres and laid them out as a square? Or perhaps a pyramid shape, with the central sphere higher than the others. 
And what if the center had 6 towers on it...
You are not allowed to view links.
Register
or
Login
to view.
Empyrean Heaven, the dwelling place of God.
It also evokes the zodiac section of the vms somewhat.
By the same artist: (Giovanni de Paolo)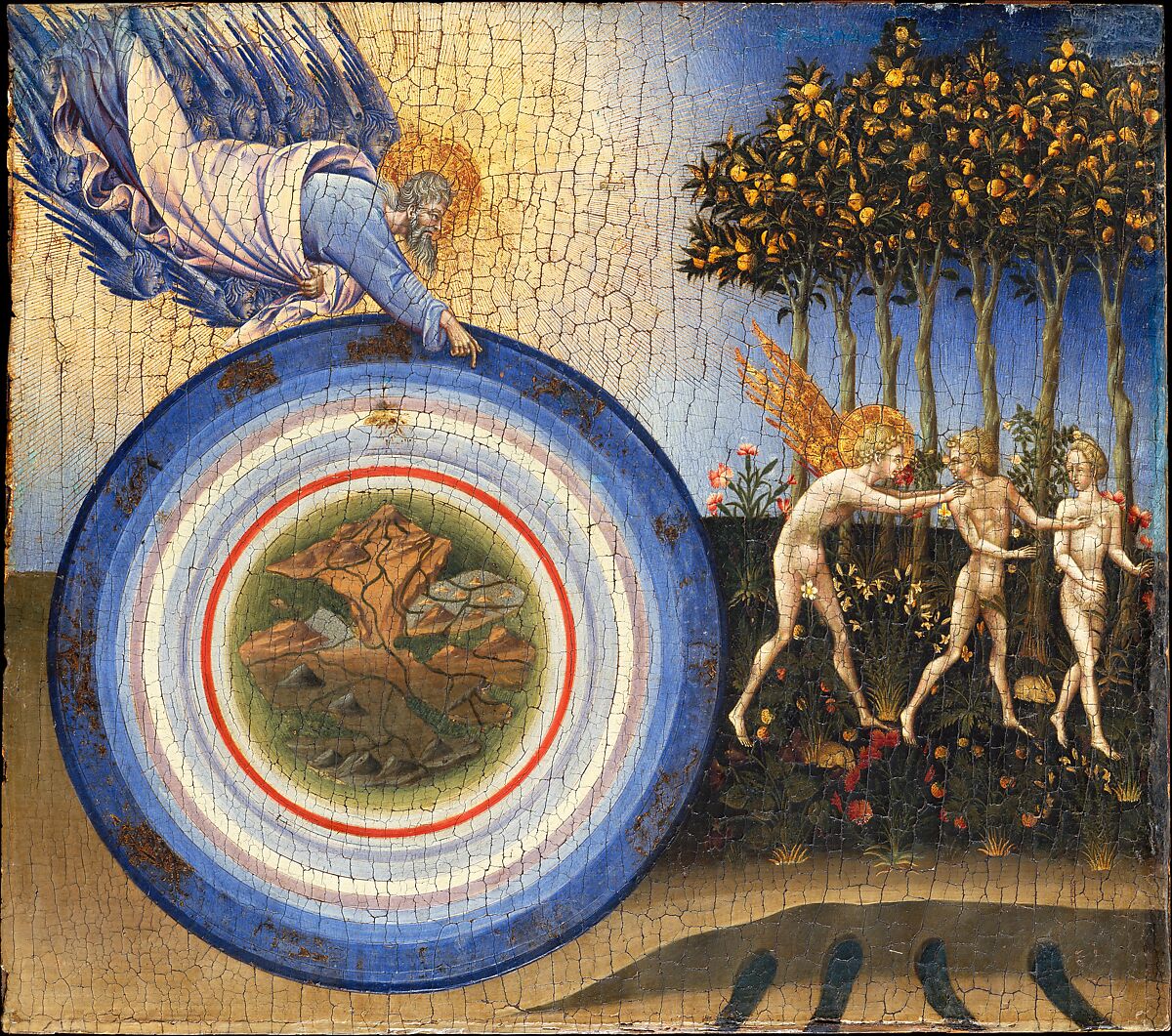 I found this interesting, from wiki:
He may have been in contact with Franco-Flemish iluminators, who had been in Siena during Giovanni's early years. It seems their Northern influence may have rubbed off on Giovanni because his landscaoes resemble those in the famous paintings by the Limbourg brothers; Tres Riches Heures.
Also this page of Dante shows similarities with  drawings found in copies of Dati or Sacrobosco. It shows that people may have seen some of these images outside the main original sources. Some of these have similarities with the star section of the vms as well.
You are not allowed to view links.
Register
or
Login
to view.