(11-05-2019, 08:05 AM)

VViews Wrote: You are not allowed to view links. Register or Login to view.

(10-05-2019, 09:02 PM)

Linda Wrote: You are not allowed to view links. Register or Login to view.Hi Vviews,

There are 18 nymphs plus a central bodiless head in the lake, there are 18 labels plus a stand alone glyph followed by the same number of labels as nymphs past the head, if you consider everything under the 7 words to the left side of the page as labels. That seems too coincidental not to be analogous, no?


As a side note, I think the notion that there are 18 nymphs + 1 head sounds to me like skewing things to match the number of labels... there are 19 nymphs in the pool... 
...unless you're suggesting that those nymphs are taking a horrific bath with a disembodied head? Spa rating: 0 stars.
Interesting, i went to go look at the place i think corresponds to the imagery,  Lake Sevan, and they have a legend about a girl who forgot to roll a boulder back over the spring and flooded everything. Her face is thought to be seen in this island.
So, due to manmade drainage, she now looks like this
In real life this is located at the northwestern part of the lake, but to put her at the center makes a bit of sense to me. Especially if you look at the lake from the perspective of the town Sevan, ie looking southeast, then that is exactly where she is, and the nymph with her hand on the tube is Sevan, and the river is the only one that drains the lake, the Hrezdan. Actually it just trickles, most of the water in the lake evaporates, rather than outflows.
Anyway i thought that was interesting and it also made me notice the nymph above her is mainly underwater too. And the left side of the lake is coloured a different blue, that matches the shape of the real thing quite well. 
Perhaps the second half of the lake is from a north up perspective.
As for that underwater nymph, it does appear there is more submerged area of the same point as the island.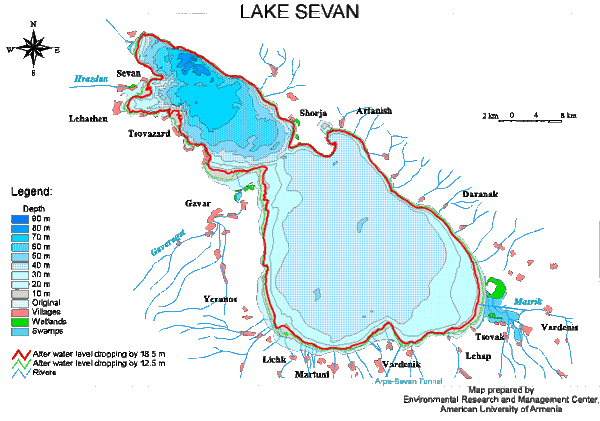 If any of this holds water (ha, unintended) then perhaps the labels refer to the surrounding geography.
I still have to take that closer look at those labels, perhaps it helps explain the correct orientations.