I was revisiting one of Jeurgen's papers on the rosettes, and to my surprise he wrote a bunch more in 2016 that i hadnt seen. The most relevant to discuss here is 
Wastl, Juergen (2016): Medieval Triangulation: Location, distance and range of city landmarks in the Rosette folio of the Voynich Manuscript. figshare. Paper. You are not allowed to view links.
Register
or
Login
to view.  
You can click on his name on the paper to get to the rest of his papers posted at this site. I havent gone through them all yet, comparison to Aristotle's Meteorolgica sounds interesting too. 
The triangulation done compares that of the directions and distances of Constantinople and Alexandria from Jerusalem, with the identified counterparts in the Rosettes. The distances are not the same, those in the rosettes being equidistant in his reckoning, but the angles are similar, being roughly 90 degrees, on the real map Cairo was closest to this point.
My own view of the rosettes puts Alexandria elsewhere, although Constantinople could be in the same vicinity, as is one of my Jerusalem locations. I wonder if it works if i try it with mine. The idea is that it is basically a right angle on a modern standard projection map. If we are going to get technical and precise we will need to state the projection type of the maps used. Here is a page to play with those You are not allowed to view links.
Register
or
Login
to view.
But i am just taking an initial look-see right now..
Nope, i end up with 180 degrees, and although that seems somewhat remarkable, it doesn't compare at all with the reality based version. If i use my other Jerusalem location (S rosette center) i do get 90 degrees, though. Interestingly enough my Constantinople line is longer than the Alexandria line, as it is in real life. I guess i should plot it and do some measurements.
(I am just measuring with a corner of paper on the screen at the moment.) 
In case you want to check it out for youself, Jeurgen's Jerusalem is the center of the central rosette, mine for this purpose, anyway, is the center of the S rosette. His Alexandria is the blue bit on the tower in the hole near the NW rosette, my location would be on the inner northern part of the bridge near the south side of the W rosette. His Constantinople is the blue bit on the castle on the bridge south of the NE rosette, mine would be the lower end of the same bridge, nearer my Aegean Sea (E rosette). It would be on the other side of the Aegean Sea in real life though. This is why I never thought to do such a test, because things are out of scale, out of place, and tend to morph to different sizes and directions in my view of it, obviously it is not a clear representation of the Mediterranean area, nor of the ecumene, or even as a map at all, to some.
In fact, that was part of the purpose of the paper, to see if the rosettes could qualify as a map.
Boy it is harder than i thought to get all 3 places shown on a map image. Between the 3 i think you can see where they all are. I included the last one to get a sense of scale. A quick check with my brochure corner does show Cairo to be the closer match to 90 degrees, so in that way i am already out from reality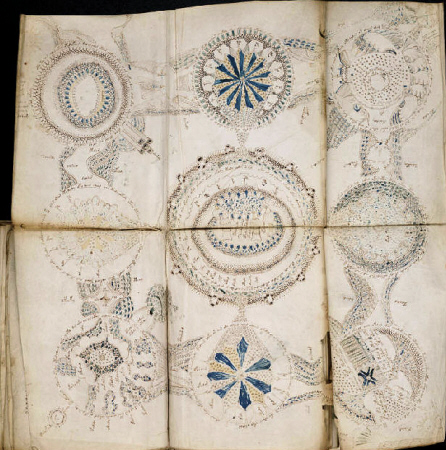 So it is pretty difficult even with my simple method since my touchscreen can senseìiìi the paper and things are moving and zooming around but i get a tentative 2.25 to 1.25 measurement on my lines. If the 2.25 is 1170km, then the other i calculate at 650. Evidently flying distance is 423km. Oh wait, another site says bird fly distance is 696 km. Let me find a reference that will give us comparisons for both...2.25/1.25=1.8 just to get a quick comparison of distances.
You are not allowed to view links.
Register
or
Login
to view.
This one says 1127 nne vs 427 wsw  = 2.6
You are not allowed to view links.
Register
or
Login
to view.
This one 1168 vs 424  =2.7
So nowhere near. Of course, no one in 1400 would be measuring by air, but then again they didn't drive cars either. Just for funsies, driving distance from google 1864 vs 767  =2.4
In any case, it is an interesting exercise, and could lead to further correlations upon further testing and examination of various other locations. I encourage anyone else working along these lines to examine their own locations, if they pan out in some way, let's hear about it!  Even if it isn't on the basis of comparison with mappae mundi, it could be interesting to find any correlation in distance or direction with any other map.  
Within Jeurgen's paper are mentions of Diane's thoughts that the rosettes "...fit...into the history of nautical charts...".  Evidently Diane has an identified Alexandria location that is different from Jeurgen's as well, but I do not know the specifics, nor whether there exists an identified location for Constantinople or Jerusalem in her writings, but as Jeurgen points out, the methods outlined were meant for use with the mappae mundi of Christian heritage, whereas Diane's "...eastern influence...", or what I understand to be a Hellenistic view, may not be compatible with this analysis. 
My views may not qualify either, in that such maps are not the only types or origins thereof to which i am comparing the rosettes, and the Jerusalem location i am using to measure for comparable results is not central, but i have been able to see correlations with such maps portrayed within certain perspectives, and it is enough for me to keep these methods of analysis in mind for future consideration.